UK sponsored 'innovation vouchers' for Chilean small and medium sized enterprises
Thursday, December 26th 2013 - 06:00 UTC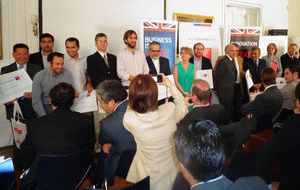 Fifteen "innovation vouchers" were awarded to Chilean (Small and medium enterprises), SMEs who will now begin working with project teams from the Universidad Católica, Universidad de Desarrollo and Universidad de Santiago to improve their company's products and services.
This is part of a pilot project co-funded by the UK embassy and Chile's Ministry of Economy and involves from solar panels to waste water management in Punta Arenas.
Rachel Sandby-Thomas, Director General of Skills and Enterprise from the Department of Business, Innovation and Skills (BIS), UK and Hernán Cheyre, Executive Vice-President of Corfo, delivered the fifteen awards which are part of the Innovation Vouchers pilot project co-funded by the British Embassy and the Ministry of Economy during an event earlier this month.
The pilot project aims to replicate a similar innovation vouchers grant scheme that was launched in the UK in 2012. This UK scheme seeks to encourage small to medium sized businesses in collaborating with actors outside of their existing networks in order to gain new knowledge. In particular, the Chilean pilot project focuses on strengthening the connection between SME's and universities as an opportunity to evaluate the scheme for wider implementation at a national level in Chile.
Over fifty Chilean companies applied to the program during the month of October and the fifteen selected companies will receive 2 million Chilean Pesos 2,000,000 CLP (approx 4.000 dollars) worth of advice and expertise from the one of three participating universities to develop a service related to the company over the next few months. The diverse service areas for these projects range from one project related to an auto fact reporting system in Santiago to another project associated with environmentally friendly waste water management systems in Punta Arenas.
One of the highlighted projects involves Solarwind-Chile's production of solar panels to use air for heating, climate control and de-humidifying. The originality of this project earned Solarwind-Chile an additional voucher awarded by Chile Diseño that corresponds to specialised project consultation services from the UK Design Council.
The winning companies and their partnering universities are: Universidad de Santiago de Chile: S.C.I. Interservice Ltda.; Algramo; Diagnochip; Ikuna and Indescon.
Universidad del Desarrollo: The Language Co; Shamrock Idiomas Limitada; Solarwind-Chile; The South Ltda.;Fremartec Ltda.
Pontificia Universidad Católica de Chile: ESSE Soluciones Energéticas Ltda.; Grupo Kaweskar Ltda.;Autofact Chile SpA; Real Systems Ingeniería Informática Ltda. and Greve Ltda.