China pumps 5bn dollars to help banking system with rising interest rates
Friday, December 27th 2013 - 00:59 UTC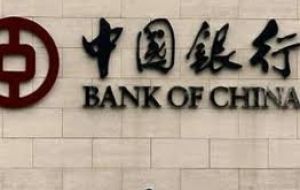 China's central bank has pumped 5bn dollars into the banking system to ease concerns over a credit squeeze that has caused rising interest rates. The People's Bank of China did not explain its actions, but over the last few days there has been growing concern over the availability of credit.
That has been reflected in the interest rates banks charge each other.
On Monday one important benchmark rate rose to its highest level since June, the height of China's credit crunch.
The seven day bond repurchase rate hit 8.93% but fell back to 6.56% after the central bank added funds to the banking system.
Analysts are blaming China's current cash crunch on a number of factors.
In a process known as "window dressing" banks typically conserve cash at the end of the year to keep their balance sheets looking healthy. However this year they have been doing that in a different financial environment.
Chinese authorities have been trying to discourage excessive lending by curbing official credit lines and slowing government spending.
"The banks are being forced to adapt to regulatory changes - so they are being forced to hold additional capital. Banks that have been used to operating on very easy and loose conditions are now finding that those conditions are starting tighten," said Jeremy Stretch, market strategist at CIBC.
"Authorities are fearing that this is causing a scramble for cash and that is pushing up the rates and so they are being forced to inject some money into the system," he said.
In June banks suffered a more serious credit squeeze and the benchmark interbank lending rate jumped to a record 13.4%. (BBC).-