World Cup 2014: Brazil most expensive stadium has a leaking roof
Friday, December 27th 2013 - 05:07 UTC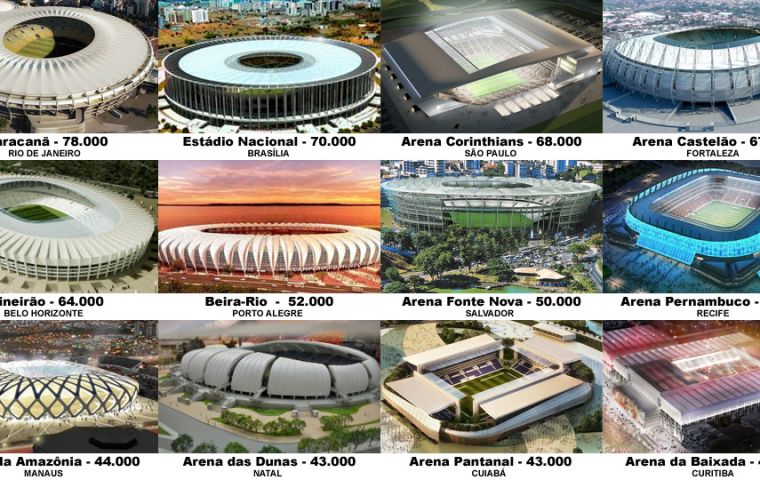 Reports from stadium operators in Brazil have revealed that the most expensive of the 12 stadiums built or renovated for the 2014 FIFA World Cup has a leaking roof, less than eight months after it was finished.
SECOPA, the local government agency that runs the Mane Garrincha National Stadium in Brasilia, will ask the company that rebuilt it to explain why parts of the roof let in rain during the women's match between Brazil and Chile.
Local media reported that almost the entire lower ring of the stands was soaked. SECOPA however played down the problem, saying the leaks were not serious and would not affect any of the matches being played there during next year's World Cup.
"Because it is a new, grandiose and complex stadium, some small points are still being corrected and tested but there is nothing that compromises the running of the stadium or the holding of events there," SECOPA said in a statement.
The stadium comes with a five-year guarantee and any repair work will be paid for by the builders, SECOPA added.
The national stadium in the capital Brasilia cost more than 1.2 billion Real (508.99 million dollars). It will stage six World Cup matches including a quarter-final and the third-place playoff.
The venue was inaugurated in May and it hosted the opening match of the Confederations Cup between Brazil and Japan in June. It has held 17 major events since then, including several first division football matches, stadium officials said.
At least three of the six World Cup stadiums still to be finished before the tournament kicks off in June will be handed over behind schedule. A total of five people have died while working on the 12 venues, including one man in Brasilia.
In related news a Sao Paulo state Labor Ministry official said the man who operated the crane that collapsed at the city's World Cup stadium had worked 18 days in a row. Two construction workers were killed in the Nov. 27 accident, which remains under investigation.
An Internet portal quotes the ministry's regional superintendent Luis Antonio Medeiros as saying time cards showed the crane operator at the Arena Corinthians stadium "was 18 days without any break."
Medeiros said there wasn't necessarily a cause and effect relationship between the accident and the operator's string of workdays. But, he added, "We think that's exhausting for someone who works such a delicate machine."