December inflation doubles in Brazil but at an annualized 5.51% remain on target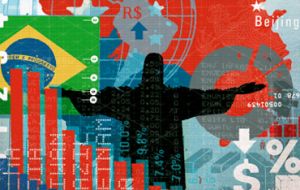 Brazil's general price index, known as the IGP-M, more than doubled in December, posting a rise of 0.60% compared with a 0.29% increase in November, the Getulio Vargas Foundation said Friday.
Despite the increase, the latest figure came in line with analysts' expectations for an increase of 0.57% to 0.75%. The December IGP-M figure measured prices from Nov. 21 to Dec. 20. The IGP-M measures inflation adjusted for annual rental contracts of housing and commercial properties across Brazil.
The index rose 5.51% this year compared with a 7.82% increase in 2012. The annual figure also came in line with economists' expectations.
Wholesale prices, which carry a 60% weighting in the overall index, gained 0.63% in December compared with a 0.17% rise in November. Consumer prices, which have a 30% weighting, increased 0.69% from a 0.65% rise previously.
Construction costs, which have a 10% weighting, rose 0.22% compared with a 0.27% increase.