Cristina Fernandez administration launches yet another price control program
Friday, January 3rd 2014 - 23:34 UTC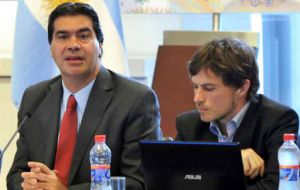 Argentina's government formally launched on Friday its latest price control program as double-digit inflation sets the stage for tense annual wage talks in coming months. The one-year program sets prices on 194 supermarket items including staples like milk, meat and pasta as well as discretionary items such as beer and ice cream.
"It isn't a price freeze rather a policy, to provide visibility, certainty and transparency in the formation of key prices in the economy," said Augusto Costa, whose duties as Domestic Commerce Secretary include regulating prices in a televised address.
The program is scheduled to take effect Jan. 6 in the capital Buenos Aires and surrounding urban areas in Buenos Aires Province, which together are home to more than a third of the country's 40 million people, followed by other provinces.
Cabinet Chief Jorge Capitanich said the agreement reached between the government and supermarket leaders and retailers, effective as of Monday has managed to reduce prices by 7%.
"The goal is to protect workers' pockets and create conditions to preserve (their) power purchase," Capitanich said at a press conference at the Casa Rosada presidential palace.
"All supermarkets will have the same prices. It will not depend on any type of chain or subsidiary. This price dispersion created uncertainty and lack of reference that did not allow consumers to make decisions. With this agreement the (price) reference consumers will have will be univocal. Every consumer knows a product that is included in this basket costs the same, no matter what supermarket the consumer goes to. This is good to know that consumers will not be misled or a victim (of retailers)," Costa said.
The list of prices can be checked at http://www.precioscuidados.com/
The official dollar rate is 6,60 argentine Pesos and in the parallel market 10.20 Pesos.