US icebreaker sent to Antarctica to rescue Chinese and Russian trapped vessels
Sunday, January 5th 2014 - 14:41 UTC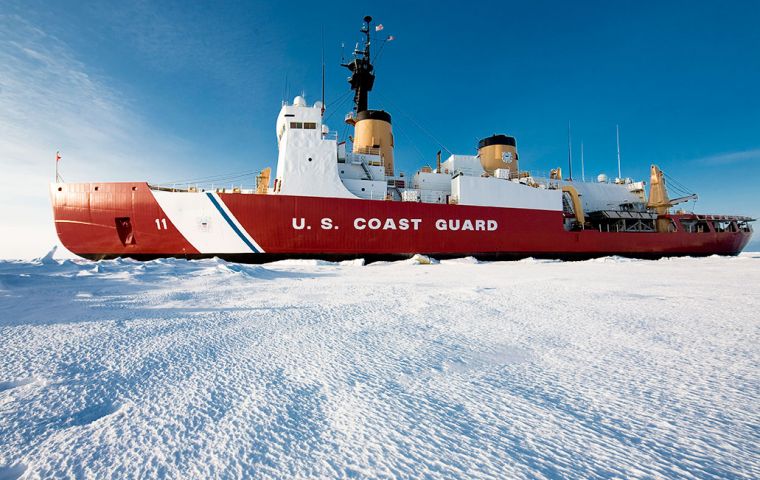 A U.S. Coast Guard heavy icebreaker left Australia for Antarctica on Sunday to rescue more than 120 crew members aboard two icebreakers trapped in pack ice near the frozen continent's eastern edge, officials said. The 122-meter cutter, the Polar Star, is responding to a Jan. 3 request from Australia, Russia and China to assist the Russian and Chinese ships.
"There is sufficient concern that the vessels may not be able to free themselves from the ice," the US Coast Guard said in a statement.
The Russian research ship Akademik Shokalskiy has been trapped in ice-clogged Commonwealth Bay since Christmas Eve, while the Chinese ship which came to its rescue, Xue Long or Snow Dragon in Chinese, reported on Friday it too had become stuck nearby.
A day earlier, the Chinese ship's helicopter had retrieved from the Russian ship 52 scientists, journalists and tourists who are now on their way home aboard an Australian icebreaker, Aurora Australis.
Authorities say the 101 crew aboard the Chinese ship and 22 aboard the Russian ship were well provisioned and in no immediate danger.
The Polar Star was cutting short its planned stop in Sydney, Australia, to assist.
"Our highest priority is safety of life at sea, which is why we are assisting in breaking a navigational path for both of these vessels." Vice Adm. Paul F. Zukunft, the Coast Guard Pacific Area commander, said in a statement. "We are always ready and duty bound to render assistance in one of the most remote and harsh environments on the face of the globe."
The Australian Maritime Safety Authority's Rescue Coordination Centre, which oversaw the rescue, said on Saturday the Polar Star, the Coast Guard's only active heavy polar icebreaker, will leave Sydney on Sunday after taking on supplies. It would take about seven days for the Polar Star to reach Commonwealth Bay, depending on weather, AMSA said in a statement.
After the Snow Dragon reported it was stuck on Friday, AMSA told the Aurora to stay in the area, with its rescued passengers on board, in case help was needed. Under international conventions observed by most countries, ships' crews are obliged to take part in such rescues and the owners carry the costs.
On Saturday, AMSA said the Aurora was allowed to continue and that the Chinese and Russian ships were safe.
The Polar Star left its homeport of Seattle in early December to take part in one of its main missions, Operation Deep Freeze, to break a channel through the sea ice of McMurdo Sound to resupply and refuel the U.S. Antarctic Program's McMurdo Station on Ross Island.
A reporter for China's official Xinhua News Agency who is aboard the Snow Dragon, Zhang Jiansong, said an iceberg appeared over Thursday night and blocked the ship's return route. He said the ship would again try to find a way out, possibly as early as Monday when westerly winds would hopefully loosen the ice's grip.
Zhang said late Saturday that the 101 crew members on board the vessel were safe and had plenty of supplies. The Snow Dragon was 21 kilometers from open water, he said.
The Russian-owned research ship left New Zealand on November 28 to commemorate the 100th anniversary of an Antarctic journey led by Anglo-Australian explorer Douglas Mawson. It became trapped on December 24, 100 nautical miles east of French Antarctic station Dumont d'Urville and about 1,500 nautical miles south of Tasmania.