RAF Tornado fighter jets fly with parts made using 3D printing technology
Monday, January 6th 2014 - 19:07 UTC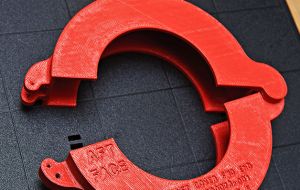 Royal Air Force Tornado fighter jets have flown with parts made using 3D printing technology for the first time, defense company BAE Systems has said. The metal components were used in test flights from the firm's airfield at Warton, Lancashire, late last month.
The parts include protective covers for cockpit radios and guards for power take-off shafts. It is hoped the technology could cut the RAF's maintenance and service bill by over £1.2m over the next four years.
BAE engineers are producing the parts for four squadrons of Tornado GR4 aircraft at RAF Marham in Norfolk - with some parts costing less than £100.
Mike Murray, head of airframe integration at BAE Systems, said: "You are suddenly not fixed in terms of where you have to manufacture these things. You can manufacture the products at whatever base you want, providing you can get a machine there, which means you can also start to support other platforms such as ships and aircraft carriers.
"And if it's feasible to get machines out on the front line, it also gives improved capability where we wouldn't traditionally have any manufacturing support."
3D printing - which has been hailed as the future of manufacturing - works by building up layer upon layer of material to build complex solid objects.
In September, US space agency Nasa announced that it is planning to launch a 3D printer into space in 2014 for the first time to help astronauts manufacture spare parts and tools in zero gravity.
It is thought it could help reduce the costs of future missions.