Brazilian jails in collapse: one convict is slain every two days
Saturday, January 11th 2014 - 06:45 UTC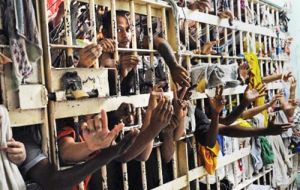 Brazilian report shows at least 218 inmates were killed in the country's jails last year, an average of more than one convict slain every two days. The data was published by Brazilian daily Folha de Sao Paulo on Thursday.
The newspaper pointed out that the released figures likely understated the problem in the country's prisons as three states - Alagoas, Bahia and Rondonia - did not release data regarding killings within their detention centers.
The statistics also excluded the number of killings of convicts detained in police stations.
According to the report, 28% of the killings took place at the notorious Pedrinhas prison complex in the northern state of Maranhao, where violent clashes between rival gangs left 60 convicts dead last year.
Recent published video footage showing three beheaded inmates at Pedrinhas prison caused the Office of the UN High Commissioner for Human Rights earlier this week to express concern over the poor condition of prisons in Brazil.
The UN office also urged the Brazilian authorities to launch a "prompt, impartial and effective investigation" into the events at the prison and prosecute those behind the abuses.
Brazil purportedly has the largest prison population in the world - increasing 380% in the past 20 years.
Human rights groups, including Human Rights Watch and Amnesty International, have condemned conditions in the Brazilian prison system, which has the capacity to hold 306,497 inmates, but has over half a million jailed.