Maduro names new cabinet but main ministries remain unchanged
Monday, January 13th 2014 - 06:10 UTC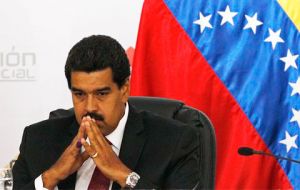 Venezuelan President Nicolás Maduro appointed seven new ministers. His announcement was made during an event with the Movement for Peace and Life. Venezuela has been shocked by the extent of crime and killings, which means according to private organizations stats that only two out of ten cases ever are caught and face trial.
Maduro appointed Ricardo Menéndez as the new minister of higher education, replacing Pedro Calzadilla. Maduro said Menéndez has "a very specific mission. I have made strong calls for the Bolivarian higher education to be brought in line with the main needs for scientific and technological development in Venezuela in the next 30 years."
Maduro suggested that students should study the areas in which professionals and staff are needed, rather than what they decide.
Héctor Rodríguez was appointed as education minister. He is also the social vice-president.
Major General Wilmer Barrientos moved into Minister of industries. He was the minister of the presidential office. "Let us galvanize much needed investment and economic development," Maduro remarked.
The Youth Ministry will be headed by Deputy Víctor Clark, the under secretary of the National Assembly. "The main task is to get into the communities to look for the youth," Maduro said.
Antonio "El Potro" Álvarez, a former candidate for mayor of Sucre municipality, was appointed as minister of sports. Hugo Cabezas was appointed as minister of the presidential office and government follow-up.
Jesús Martínez was designated as the new labor minister.
Maduro ratified Miguel Rodríguez Torres, Delcy Rodríguez and Andreína Tarazona in their positions as minister of the interior, communication minister and minister for women's affairs, respectively.
Maduro described his cabinet reshuffle as "necessary" and comes after the assault and killing of a former Miss Venezuela and her husband, a violent incident that shocked Venezuela. The couple and their 5-year old daughter fell into a highway trap and were robbed and riddled with bullets. The child is recovering.
Venezuela has one of the world's highest murder rates in the world, higher than neighboring Colombia, which has been at war with guerrillas for decades, and that Mexico where an open battle between government military and drug lords has left thousands killed.