Argentine baggage handlers delay Aerolineas flights and cruise vessels in Buenos Aires port
Wednesday, January 15th 2014 - 00:03 UTC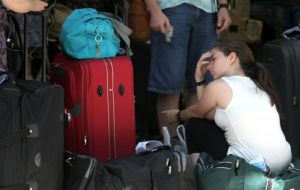 Flights to and from Argentina's capital Buenos Aires' international airport were delayed on Tuesday after a union offshoot that represents baggage handlers for the national carrier, Aerolíneas Argentinas, went on strike to protest the company's proposal to hire handlers for six-hour shifts.
The strike also extended to the port, where cruise ship passengers waited up to five hours for their luggage.
The Labor Ministry called on the baggage handlers who are part of the APA airline workers' union to fulfill the mandatory conciliation order that the ministry had issued on Friday.
At least 3,000 passengers were reported to be stranded because of the difficulties.
Cabinet Chief Jorge Capitanich talked about the issue in his daily press conference, complaining of the conflict that has been causing troubles for travelers since Friday, and noting that the workers had been refusing to fulfill a mandatory conciliation order.
The baggage handlers union said they were striking because they want the airport company to hire more workers for 12-hour shifts, claiming they are understaffed. Aerolíneas Argentinas said they had managed to get 70 baggage handlers to work for the six-hour shifts on those days that have the largest number of flights coming in and out of the airport, in order to ensure "that the airline flight needs are met as well as protecting the health of the workers with reduced shifts."
The baggage handlers were protesting by slowing luggage transfers to a trickle.
Aeroíneas Argentinas harshly criticized those behind the strike claiming they were a small minority that were attempting to maintain an inefficient system. The state-run company intends "to break and dissolve" the group of baggage handlers that supposedly steal items from luggage.
"We ask for forgiveness to our passengers for the inconvenient incidents caused by the 'puny' interests of a small group of employees," added the company.
Since late Sunday, Aerolíneas has registered eight delays and six redirected flights, and for an additional 10 scheduled flights, passengers were being told to approach the company for more information. The affected flights came from Venezuela, Brazil, Mexico, the US, Peru and Spain, as well as domestic flights from Ushuaia, Trelew, and and Iguazú, and a departure to Rosario.
Meanwhile at the port of Buenos Aires passengers on the Costa Favolosa cruise returning from Brazil via Uruguay confirmed they had to wait hours for bags on Monday and that port baggage handlers decided to unload just 30 bags per hour from 10am onwards.