Argentine case of possible money laundering with mutilated US dollar bills
Wednesday, January 15th 2014 - 06:50 UTC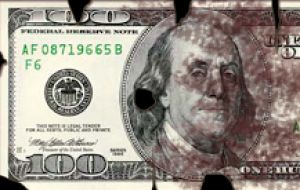 US federal agents who seized more than 4 million dollars in US banknotes shipped from a famous money exchange house in Buenos Aires, Alfredo Piano, uncovered what they claimed was a cache of dirty money. Piano, 82, said many of the 100 dollar-bills were filthy and others had been ravaged by fire, water and even dogs.
Piano's banknotes became the subject of recent scrutiny in federal court in Washington, where the bills were named defendants in a lawsuit called US v. 4,245,800 in Mutilated United States Currency. In it, the US alleged that the tattered cash that Piano's Banco had tried to exchange at face value was likely the proceeds of criminal activity.
Piano argued that his bank's role is to help Argentines get new greenbacks when their old ones get burned, ripped or, in some cases, sent through the washing machine. Hashing out whether the bills fell under the government's figurative, criminal definitions of dirty and laundered, or merely Piano's literal ones, took an 18-month legal proceeding and insights from Argentine money-hoarders, the Secret Service and an arm of the US government called the Mutilated Currency Division.
Mounting the defense of his clients' money, Piano argued that Argentines are world-class stashers of cash dollars, and that misfortune will naturally befall some of the paper money that people hoard in mattresses, walls and holes in the ground.
"Argentina leads the world in the problem of deteriorated dollars," Piano said in an interview.
Many Argentines don't trust their Peso thanks to inflation and state controls on foreign-currency purchases, and often avoid banks after their government forcibly converted dollar accounts to pesos after the country's record 95 billion dollars default in 2001. That puts Argentina among the countries where the dollar is the rainy-day standard, from Afghanistan and the former Soviet states to Venezuela.
The exotic and often rough travel itinerary of US banknotes creates a challenge for the Treasury and Federal Reserve, which have a hand in producing, exchanging and tracking the circulation of more than 1 trillion worth of paper money. There's also the Secret Service, whose job is to guard not only the president but also the nation's financial and payment systems.
The US government retires more than four billion notes each year, the Fed says. The cash often comes in from abroad, where half to two-thirds of US currency circulates, most of it in US$100 bills, it says. In October, the US introduced a new US$100 bill with additional security features.
When someone like Piano presents damaged bills for exchange, the Treasury writes a check for the face value of the mutilated currency, typically provided that more than half a given note can be accounted for.
That's great if you happen to tear a C-note while arguing over the check at a sushi bar. The problem is that it also provides an opening for criminals. Imagine if Walter White in Breaking Bad had burned holes in his meth income — several stacks of hundreds, say — so he could put in for a check or wire transfer from the US Treasury equal to his ill-gotten profits.
That's one method used by real money launderers, and what the US believed customers of Banco Piano were doing from August 2010 to mid-October 2011 when it sent several parcels of damaged notes, mostly hundred-dollar bills, to the US by way of the bank's US representative, Bank of America.
When bills from Banco Piano arrived at the Mutilated Currency Division, part of the Treasury's Bureau of Engraving and Printing, US examiners were skeptical.
"Lawful retailers, both in the United States and those overseas that accept American dollars, very rarely engage in transactions that involve US$100 bills only," Secret Service Special Agent Warren Buckley wrote in a May 2012 filing in federal court in Washington, requesting a warrant to seize the cash.
Many notes sent by Piano's bank were burned and water-damaged in ways that often signal illegal activity, Buckley wrote. His affidavit cited a Bureau of Engraving and Printing materials-technology expert who said many notes were burned in the same place, suggesting that a "common mechanism" was used.
"BEP experts consider it highly suspicious when two different mutilated bills, each submitted for redemption at a different time in different packages, have remarkably similar or the same burn marks and charring pattern," Buckley wrote.
"A total of 1,831 fragments constituted two, or very occasionally three, pieces of the same $100 notes, usually as identified by each having the same serial number, but sometimes by being taped together," he wrote.
Buckley's evidence persuaded US Magistrate Judge Alan Kay to authorize the seizure of 17 parcels submitted by Banco Piano. The sum confiscated was more than twice as large as any other seizure cited by Buckley in his request.
Piano said his family bank had been sending such cash to the US — lately 2 million to 3 million dollars a year — for six decades. He figures the size of the shipments eventually attracted officials' attention
The bank, with more than 30 branches in Argentina, helps foreign workers send remittances home, gives advances on pensions and exchanges foreign currency, Piano said. The government of Argentina, where the dollar buys roughly 60% more pesos on the black market than at the official rate, has called Piano to talk about how to narrow the spread between rates.
One customer approached the counter to trade in a handful of notes that he said his daughter ran through the laundry in her jeans. The five or 10% that Banco Piano charges to exchange such currency for new notes accounts for about 1/10th of its business, Piano said.
Argentina, which the CIA says is the world's 33rd-most populous nation, had at least 50bn in cash — about one of every nine dollars then circulating abroad, the US Federal Reserve estimated in a 2006 report.
"There's nowhere to save dollars, so people bury them in the ground in a box, or put them in the attic," Piano said. "I have a client who has a normal looking living room, but inside the bricks there are bills — he must have US$1 million or US$1.5 million stacked in there."
Piano said "a huge amount of wet bills" came in after floods in La Plata earlier this year. He produced a sheet of paper showing handwritten columns listing dozens of customers and the amount each sought to exchange.
"There's lots of people who have dogs," he said. "They have puppies that begin to play and tear everything."
As for burn marks, he said: "In a person's house they catch fire and burn. It can be from fires, all sorts of things."
On November 25, a year and a half after the bills were seized; US District Judge Emmet Sullivan approved a settlement reached between the two sides. It called for returning about US$4 million to the bank.
Banco Piano agreed not to contest the forfeiture of US$202,600. Much of that was apparently used in so-called 2-to-3 fraud, in which a pair of bills, usually hundreds, are cut into thirds and presented to the bank, two pieces at a time, in exchange for a total of three bills of the same denomination, according to Herrington.
Piano said his clients wouldn't try such a scheme, knowing the bills would be so closely scrutinized by US authorities.
"They can say what they like but we don't do that," Piano said. "It makes no sense. If the client knows where it's going — they'll never get away with it."
Banco Piano agreed to record the serial numbers of worn bills turned in for redemption, Herrington said. (Bloomberg)