Falklands oil companies agree on tension leg platform for development of Sea Lion field
Friday, January 17th 2014 - 07:57 UTC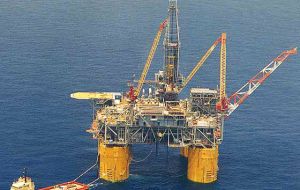 The Tension Leg Platform option is the most suitable technical and commercial solution for the development of the Falklands' Sea Lion field, according to the recommendation from field operator Premier Oil, said Rockhopper Exploration in an official release, which also announced further drilling is expected in the next twelve months.
"Rockhopper has been working closely with Premier and agrees with that recommendation", which means the completion of the concept selection process, pointed out the release.
Premier has also indicated that Final Investment Decision is now likely to be taken in the first half of 2015 and Rockhopper continues to expect first oil 3½ - 4 years after project sanction.
In terms of exploration, the Zebedee, Jayne East, Elaine/Isobel, and Chatham prospects have been matured to drillable status and a rig tender process is underway.
This is being conducted in conjunction with other regional operators and includes four firm slots for the Rockhopper / Premier joint venture. Rockhopper expects a contract to be awarded in the first half of this year and the first well to spud in late 2014 or early 2015.
Sam Moody, Rockhopper Exploration's CEO said the company was pleased to have reached another significant milestone in the commercialization of the Sea Lion Field.
"The Tension Leg Platform provides operational and commercial advantages over the FPSO alternative and it was worth taking the extra time needed to evaluate the option. We now move forward into the Front End Engineering and Development stage with a view to making a final investment decision in 2015", concluded CEO Moody.
Rockhopper drilled an exploration well on Sea Lion during April and May 2010, the result of which was the first oil discovery and Contingent Resource in the North Falkland Basin. The Sea Lion discovery was successfully tested during September 2010 and June 2011 and was the first oil to flow to surface in Falkland Islands waters.
Rockhopper's drilling campaign lasted from 16 April 2010 to 8 January 2012 and resulted in seven successful wells of the ten drilled, with three oil discoveries, three gas discoveries, multiple successful Sea Lion appraisal wells and a successful appraisal well on Casper.
In October 2012 Rockhopper completed a farm-out agreement with Premier Oil plc, whereby Premier Oil acquired 60% of Rockhopper's interests in its North Falkland Basin licenses.