US consumer inflation in December, 0.3% and in twelve months 1.5%
Friday, January 17th 2014 - 07:45 UTC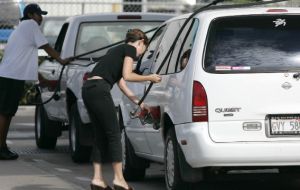 US consumer inflation spiked in December, driven higher by rising fuel prices. The consumer price index rose 0.3% on a seasonally adjusted basis, the US Labor Department said.
Fuel prices jumped 3.1% last month, their biggest rise since June, while food prices rose 0.1%. But grocery prices were flat as the cost of fruit and vegetables fell sharply, the biggest fall for five years, the Department said.
Despite December's blip, the annual rate of inflation fell from 1.7% to 1.5%, below the Federal Reserve's 2% target rate. Inflation has been held in check by slow economic growth and high unemployment.
This gave the Fed leeway to carry out its 85bn-a-month bond-buying program aimed at stimulating the economy.
Given that the recovery appears to be strengthening, the Fed has decided to begin tapering down the program, reducing the purchases to 75bn this month.
But if inflation continues to fall, the timescale of the tapering process could be extended, as very low inflation removes one incentive to spend.