Outbreak of "Clostridium Difficile" in Uruguay's largest hospital; situation under control
Saturday, January 18th 2014 - 05:24 UTC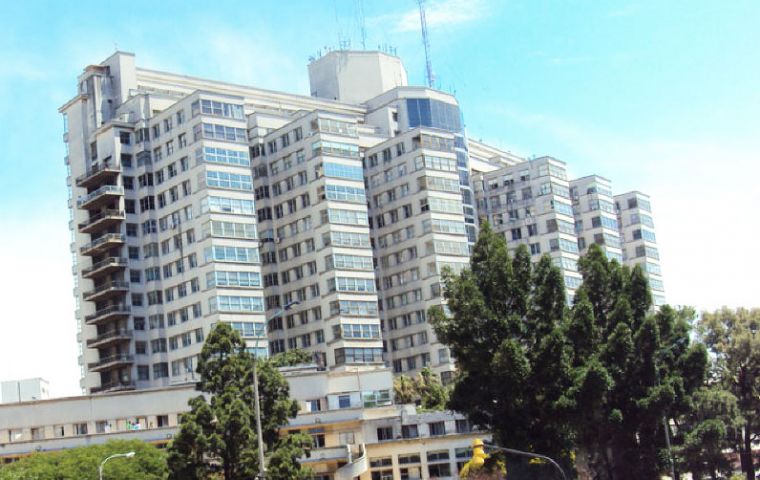 Uruguay's main university hospital, suffering from an outbreak of the highly contagious bacteria "Clostridium Difficile" has been recommended "to suspend new entries to the sections involved, restrict visits and extreme hygiene measures" plus an epidemiological test of patients and staff.
Two weeks ago is was revealed that fifteen patients from the University Hospital de Clinicas in Montevideo were infected with "Clostridium Difficile", a bacteria with severe gastro-intestinal complications and extremely volatile as its spores can remain for days.
The outbreak was formally reported 19 December and this week Uruguay's Ministry of Public Health, released a report on the "intra-hospital epidemic outbreak" with a battery of recommendations.
These included a cohort of patients and staff; improved isolation measures with emphasis in the use of gloves and lab coats by staff and visitors; extreme hands' hygiene of staff, patients and visitors" and disinfection, several times a day of the Units occupied and those adjoining.
The ministry also pointed out that the hospital must close the involved units to new patients, restrict visits and circulation in the building.
"We are in permanent communication with the Hospital, with the Intra-hospital control committee and with the Infectious Diseases Clinic from the University, that are leading the implementation of the control plan suggested and whose impact has already shown results", added the release.
The ministry also points out that in recent years several countries have reported an increase of the bacteria in intra-hospital events. In the specific case of the University hospital the number of infection cases by C-diff increased towards the end of 2013.
Professor Julio Medina head of Infectious Diseases Clinic said even when the 'C-diff' bacteria can be attacked with antibiotics and does not belong to the category of multi-resistant it is among the five or six most problematic for sanitary systems worldwide because of its formidable dissemination capacity in hospitals, and can remain hidden for weeks in instruments and other medical gear.
"The implementation of additional sanitary measures is costing us 80.000 additional dollars every month" said Victor Tonto, head of the hospital.
In most cases C-diff causes diarrhea, which could lead to an infection of the colon and in 1% to 2% of cases the patient could have to undergo surgery to extract the infected area. The mortality rate of the bacteria is 7% when the infection extends for over 30 days and 17% at the end of a year. However if the strain is hyper virulent, mortality can increase significantly.
So far according to the Uruguayan Ministry of Health, the outbreak is limited to the University hospital, the largest in the country. There are no reports of C-diff bacterial infection in private or other public hospitals.