Argentina strangles Montevideo port activity; operators call for a bilateral agreement
Thursday, January 23rd 2014 - 09:37 UTC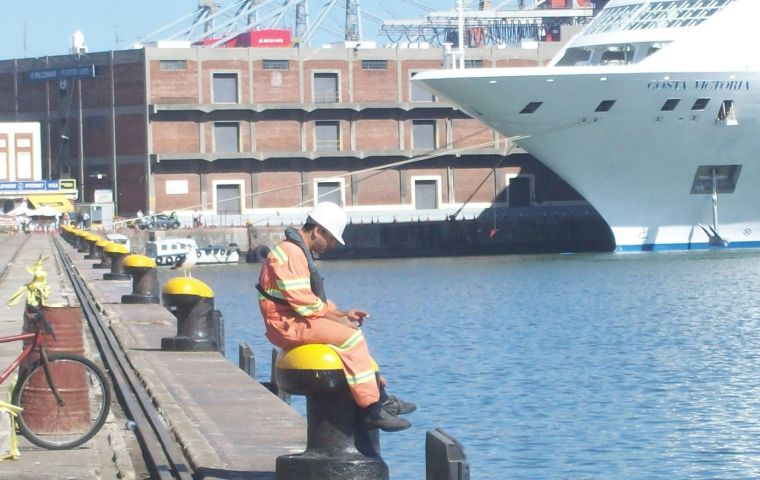 Container operators in the port of Montevideo are demanding from Uruguayan authorities an agreement with Argentina to recover all the transshipment activity which has been lost since November when the government of President Cristina Fernandez retaliated against Uruguay over bilateral issues.
"There are days when there is no activity at all at the Cuenca del Plata containers terminal. Activity has dropped 40% compared to previous to 7 November when Argentina implemented its latest battery of measures" said Fernando Correa, manager of institutional relations from Katoen Natie, the Belgian company that controls 80% of the Cuenca del Plata consortium.
"We believe there must be a country-to-country, government-to-government understanding to overcome the situation. It's a bilateral issue, we simply can't wait for a Mercosur committee to decide", insisted Correa.
Last November and in retaliation for Uruguay not consulting with Argentina the authorization to increase production of the UPM/Botnia pulp mill, Buenos Aires decided that Argentine cargoes can only be handled in ports whose countries have signed Mercosur agreements on fluvial and sea shipping.
Correa pointed out that Katoen Natie will continue to invest in Uruguay as the hub port of the region because it believes that in five years Montevideo can recover that condition if an agreement is reached in the framework of Mercosur.
Transshipment operations in Montevideo represent 60% of all activities and 80% of that percentage refers to produce and goods from Argentine Patagonia that now must move on to the southern ports of Brazil.
But despite expectations in Montevideo of an understanding between Uruguay and Argentina, the message from Buenos Aires sounds completely different. In effect Horacio Tettamendi, Argentina's Under Secretary of Ports and Waterways was quoted saying "we want Uruguay and (landlocked) Paraguay on their knees".
Traditionally Paraguay operates its foreign trade through Uruguayan ports.
Argentina's strong ports and dockworkers unions lobbies have always wanted to restrict activities in Montevideo as a hub for the region. This dates back to colonial times when Montevideo and Buenos Aires were involved in disputing trade. Anyhow given Montevideo's more reliable access and natural conditions, the Spanish navy was stationed in what was to be Uruguay's capital.