Christ the Redeemer head and hands under repairs but still open to the public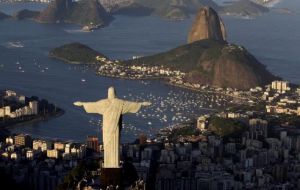 Repairs have begun on Brazil's Christ the Redeemer statue after lightning damaged the 38 meters statue's head, right finger and thumb. The iconic statue of Christ overlooking Rio de Janeiro was struck again last week during a violent storm, damaging its right thumb.
The middle finger of the right hand and a spot on its head had also been chipped during a storm last month. It is often hit by lightning because of its position atop a steep mountain. Officials say they will place more lightning rods on the statue in an effort to prevent future damage. It remains open to tourists while work is carried out, which is expected to take approximately four months. It is estimated repairs will cost in the range of 800.000 dollars. Perched atop a mountain the monument offers spectacular views of Rio. Multiple pictures and videos showing men with harnesses working on repairs have been distributed. The monument was built between 1922 and 1931 atop the Corcovado mountain and is considered to be the largest Art Deco style statue in the world. The statue underwent a 4 million dollars renovation in 2010 to repair badly eroded parts of its face and hands. The statue also suffered damage in April 2010 when the arms head and chest were covered in spray painted graffiti, in an act Rio's mayor described as a "crime against the nation". The perpetrators used the scaffolding erected during the renovation to scale the statue and vandalize it.