Discos are common in Venezuelan penitentiaries, admits minister
Friday, January 24th 2014 - 03:31 UTC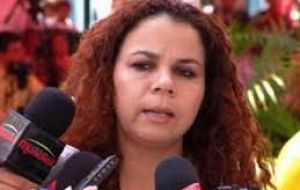 Discotheques have long operated inside Venezuelan penitentiaries, the head of the country's prison service said Thursday in response to a public uproar over the death of a young man after partying at a disco behind bars.
"The scandal (regarding) if 'there are discotheques in the prisons.' The discos in the prisons have always existed, at least since the revolution (1999, when leftist Hugo Chavez became president).
Regrettably, it's a perversion," Iris Varela told reporters from a prison in the eastern state of Anzoategui.
"What the management of the revolutionary government has done is do away with those discotheques, close them," the Prisons Service minister said.
Varela made no mention to reporters about the death of an 18-year-old visitor last Sunday as a result of consuming toxic substances, after spending the entire weekend in a discotheque in Tocoron prison in the central state of Aragua.
Exactly one month ago the minister said that the chronic crisis in the Venezuelan prisons was coming to a close, reporting the disarming of inmates and announcing the construction of new prisons.
In the first nine months of 2013, more than 300 inmates died in prisons around the country, while in 2012, 591 inmates died, according to the independent Venezuelan Prisons Observatory.
The Venezuelan penal system is experiencing a chronic crisis due to the entry of weapons and drugs into the prisons and the high murder rate, a problem that the late Chavez called a "cancer" and which spurred him two years ago to create the ministry headed by Varela.