Maduro sets limits on company profits and prison terms for hoarding or over charging
Sunday, January 26th 2014 - 12:06 UTC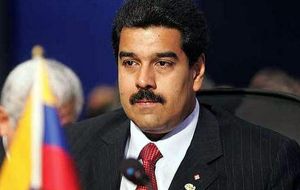 Venezuela decreed a new price control law that sets limits on company profits and establishes prison terms for those charged with hoarding or over-charging, part of populist President Nicolas Maduro's efforts to tame inflation.
Maduro, who was elected last year to succeed the late Hugo Chavez, blames a 56.2% jump in consumer prices in 2013 on an "economic war" led by political adversaries, while critics call it evidence of the failure of Venezuela's state-driven economic model.
The Fair Price Law, which carries out many of the same functions as the almost identically-named Fair Price and Cost Law of 2011, appears to unify a disparate set of controls that were first created by Chavez in 2003.
It sets a maximum profit margin of 30% and requires firms to obtain "fair price certificates" to access dollars through the country's currency control mechanism.
The law carries prison sentences of up to 14 years for crimes including hoarding, "destabilizing the economy" and food trafficking, which refers to people buying subsidized goods and reselling them mainly in neighboring Colombia.
A price enforcement agency called the National Superintendence for Defense of Socioeconomic Rights will be charged with "determining reasonable profit margins."
Venezuela has for years passed regulations giving state officials sweeping power over the private sector, but selective enforcement tends to make the rules less draconian than they initially appear.
Previous laws created by Chavez called for prison sentences of up to six years for hoarding or overpricing of food.
Maduro's campaign against high prices has appealed even to some of his critics who agree unscrupulous shop owners have taken unfair advantage of consumers amid the inflationary spiral.