Cuba opens Celac summit and warns against 'foreign interference'
Tuesday, January 28th 2014 - 21:12 UTC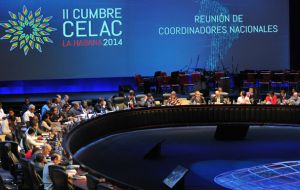 The President of Cuba Raúl Castro warned against the "foreign interference" suffered by Latin America and the Caribbean region at the Tuesday opening of the Community of Latin American and Caribbean States (CELAC) summit in Havana, which brought together representatives from the 33-nation group.
The group will make public its declaration on Wednesday which is expected to support Argentina's claims over the Falklands; condemn US blockade of Cuba, declare the area a region of peace and free of colonies, and probably call for Puerto Rico to join Celac.

Castro criticized the "long history of intervention in external affairs, military invasions and bloody coups d'état" which in his opinion were carried out by "the centers of power who will not give up control of the region."
The meeting in Cuba of the 33 member-nations who make up CELAC, in an initiative spearheaded by late Venezuela president Hugo Chávez and which does not include the United States or Canada. Chávez was honored at the conference by a minute's silence.
"We are still living in a world ruled by an unfair, exclusive international order, in which threats to peace and foreign interference in the region continue," Castro added, before calling for the construction of a new model based on the region's needs.
One of the final resolutions of the Havana Declaration, negotiated ON Monday by foreign ministers and which will be passed over for approval by heads of states, will be to consider the region as a peace zone.
"The dangers to peace continue in several areas of the world and fellow nations have been the object of threats, unilateral measures of coercion and legal action for the lawful actions they have adopted in defense of their sovereignty," Castro fired.
On Wednesday participants will sign a more than 80-point declaration covering issues from the fight against poverty to the solution of conflicts by peaceful means.
Data from the Economic Commission for Latin America (CEPAL) reveals that the regional poverty rate in 2012 reached 28.2% of the population, affecting 164 million people.