Fears that a drifting Russian cruise vessel, full of rats, could reach UK shores
Tuesday, January 28th 2014 - 05:45 UTC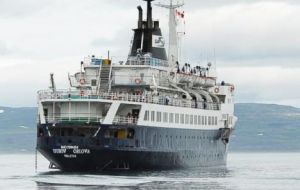 An abandoned cruise ship allegedly brimming with cannibal rats, which has been drifting in the Atlantic Ocean for around 12 months might end up in the shores of Great Britain. According to experts, the Russian liner Lyubov Orlova that once carried 100 passengers, might drift on the west coast of Cornwall, Scotland, or Ireland.
The 40-year-old ship has been floating in the open seas since last year after being cut loose from a boat towing it from Canada where it was docked. According to the coastguards, the storms in the region might have pushed it towards the United Kingdom.
The Lyubov Orlova that used to carry passengers to the remote points of the Arctic was impounded in Newfoundland in 2010 after its owners failed to resolve debt issues. The crew abandoned the ship after not being paid by the company. Since then, rats that may have eaten each other to survive, have infested the vessel.
"There will be a lot of rats, and they eat each other. If I get aboard, I'll have to lace everywhere with poison," said Pim de Rhoodes of Belgian company looking for the ghost ship.
Salvage hunters are on a race to find the Lyubov Orlova since scrapping the ship will translate to almost one million dollars in their coffers.
After remaining impounded for two years, the 4,250-ton liner was towed for scrapping in the Dominican Republic but was caught in a storm and broke from the ship towing it. The government of Canada ordered the ship to be hauled out and be cut loose.
Since then, the whereabouts of the Lyubov Orlova has been a mystery. Last March, two of its distress beacons were activated but they might have been from rafts that broke away during a storm. Authorities have also spotted a mysterious ship off the coast of Scotland last year but search parties was not able to track it down.
The coast guard believes that the cruise ship is still afloat.
"There have been huge storms in recent months, but it takes a lot to sink a vessel as big as that. We must stay vigilant," said Ireland's chief of coast guard Chris Reynolds.