Noravirus hits 'Explorer of the Seas' in the Caribbean; 10-day trip cancelled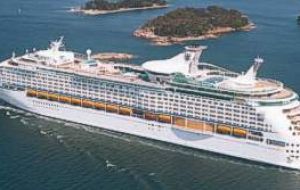 The Royal Caribbean cruise 'Explorer of the Seas" has ended the 10-day trip in the Caribbean early after hundreds of passengers and crew members were sickened with a gastrointestinal illness. It is believed the incident is a new case of the noravirus which has been attacking large cruise vessels.
The Miami-based company made the announcement a few hours after officials from the U.S. Centers for Disease Control and Prevention boarded the 'Explorer of the Seas' during its U.S. Virgin Islands port call to investigate the illness and evaluate the outbreak response.
"New reports of illness have decreased day-over-day, and many guests are again up and about. Nevertheless, the disruptions caused by the early wave of illness means that we were unable to deliver the vacation our guests were expecting," Royal Caribbean Cruises Ltd. said in a statement.
The decision to end the trip came after consultation between CDC officials and members of the cruise line's medical team, the company said.
The CDC said early yesterday that 577 of the 3,050 passengers aboard the 15-deck ship reported getting sick during the cruise that left Cape Liberty Cruise Port in Bayonne. Forty-nine crew members also reported feeling ill, according to Bernadette Burden, a spokeswoman for the CDC.
She said the CDC team will remain on board the ship until the vessel returns to the United States later this week.
Tests would have to confirm what caused the outbreak, but fast-spreading norovirus is often to blame for similar symptoms sweeping closed quarters like those on cruise ships.
Royal Caribbean said special cleaning products and disinfectants proven to kill norovirus were being used to clean the ship before it returned to the U.S. It said a full sanitization program would be carried out after the Explorer of the Seas reaches its home port later this week.