Gastro-bug exhausted passengers cheer as 'Explorer of the Seas' returns to home port
Thursday, January 30th 2014 - 06:12 UTC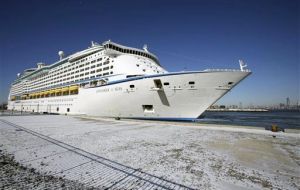 Passengers staggered off a Royal Caribbean ship reeking of vomit and diarrhea at its home port on Wednesday after their cruise was cut short by an apparent stomach bug that felled nearly 700 vacationers and crew. Cheers erupted from the Explorer of the Seas as the vessel pulled into Bayonne, New Jersey, in New York Harbor.
Passengers disembarking soon afterward recalled the nightmare of falling ill during the Caribbean cruise, being quarantined in their rooms, and putting everything they touched into biohazard bags.
Altogether, 630 passengers and 54 crew fell ill aboard the ship that departed Bayonne on January 21, Llelwyn Grant, spokesman for the US Centers for Disease Control and Prevention, said. Illness struck about 20% of the 3,071 passengers and roughly 5% of the 1,166 crew aboard the ship, he said.
Its planned 10-day cruise was cut short by two days when it returned to its home port.
The CDC said that the cause of the sickness was still under investigation and that stool samples collected from sick passengers were being taken off the ship and rushed to CDC labs for study.
"We're basically citing this as a gastro infection until we have the test results," Grant said.
An environmental safety officer and an epidemiologist boarded the ship in St. Thomas in the US Virgin Islands on Sunday to help determine the proper response to the outbreak. While at sea, the ship's crew stepped up cleaning and disinfection procedures, the CDC said.
The cruise line said it believes the illnesses are consistent with norovirus, a highly contagious virus spread from an infected person, contaminated food or water, or by touching contaminated surfaces, according to the CDC.