Malvinas Affairs official meets with Decolonization Committee Bureau
Thursday, January 30th 2014 - 05:53 UTC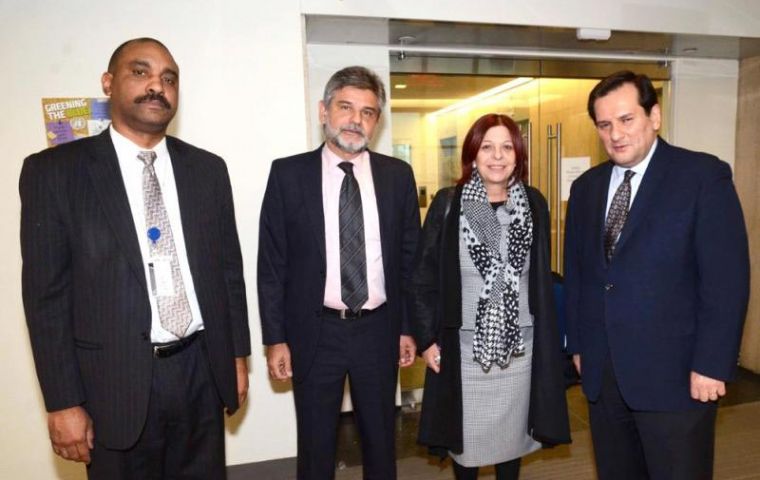 Following on an initiative from the standing Bureau of the United Nations Special Committee on Decolonization, Argentina's Secretary Related to Malvinas and other South Atlantic Islands Affairs, Daniel Filmus held a meeting with its members on Tuesday at UN headquarters in New York.
Besides former Senator Filmus, the meeting was also attended by Argentina's ambassador at the UN, Maria Cristina Perceval and members of the bureau, headed by Ecuadorean ambassador Diego Morejón. The other representatives belong to Cuba, Syria and Sierra Leone.
According to Argentina's official news agency Telam the Argentine delegation and the Committee's Bureau discussed the importance on complying with UN resolutions referred to the Falklands/Malvinas issue, and implementing dialogue as the only instrument to resolve the sovereignty dispute.
"The Bureau invitation to Argentina" was extended because they are the counterpart in the Falkland/Malvinas issue, and which established that the sovereignty dispute over the Islands must be resolved through negotiations between the sides involved: Argentina and the UK.
"Ambassador Diego Morán and the other Bureau representatives together with the Argentine delegation addressed ideas to advance cooperation in the process as established by UN resolutions on the Falklands/Malvinas issue".
The Bureau acknowledged Argentina's permanent disposition to dialogue and to resume sovereignty negotiations under UN mandate.
The Argentine delegation expressed its appreciation for the work displayed by the outgoing chairman of the Special Committee on Decolonization, Ambassador Diego Morejón (2012 and 2013) which "has significantly strengthened international commitment to the decolonization process, as has been recognized by member states of the Special Committee".