Brazilian police challenge Rousseff and threaten to strike during the World Cup
Tuesday, February 4th 2014 - 09:03 UTC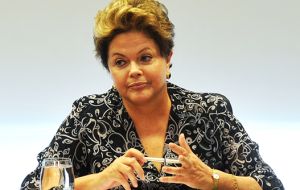 Only four weeks away from the World Cup and in a climate of growing social unrest Brazil police unions are threatening the government of President Dilma Rousseff with a national strike. For Rousseff it also means an additional challenge since on February 10 the ruling Workers Party will be launching her re-election bid for next October's presidential election.
"There is the possibility of a general strike which has already been decided last week by the 27 regional branches of the federal police union, together with the national board" said Luiz Baldens, vice-president of the national organization.
"We have decided to change the way we discuss issues with the authorities. The government insists with a wage increase ignoring all other demands. The government is always delaying, we are waiting for replies since 2012, we're going to change the way we act" added the union official.
Baldens recalled that in 2012 the Brazilian federal employees unions went on a 72-day strike who anticipated that this week there will be meetings at different state levels to decide when the next measures will be implemented.
The threat of a police forces strike occurs when Brasilia is working with the Militarized Police to organize "Operation Turtle" in anticipation of extreme situations that could happen during June/July when the Cup's games are played.
In effect police intelligence is also working on containing the social unrest which plagued last year's Confederation Cup when thousands took to the streets to protest against corruption and the billions spent in stadiums and no money for transport or other urgent infrastructure needs.
Over the weekend this type of protest set on fire a bus, the 35th so far this year in the Sao Paulo area, where protests last year were larger in number and incidents.
Even when a court order declared the police strike illegal, the force did not lift the measure and union leaders anticipated that most probably they will not be working in June when seven of the World Cup's matches are to be played in the Brazilian capital. Not only have they been disobeying orders, they have been sticking posters and signs across the city, some only a few blocks away from Planalto (Government House) describing their intentions.
President Rousseff has agreed with the cabinet to train a special elite force of 10.000 men to act as a strike force in any, or several cities at the time. The president has also warned that if necessary she will call in the army to quell the unrest as she recently did during the oil bidding process.
Likewise the presidency minister Gilberto Carvalho and a man of total trust of Rousseff has been contacting the social organizations to try and convince them that the marches should take place with no destruction of property or attacks on police forces.