Desperate Argentine officials target big business as the culprits of the current situation
Tuesday, February 4th 2014 - 23:00 UTC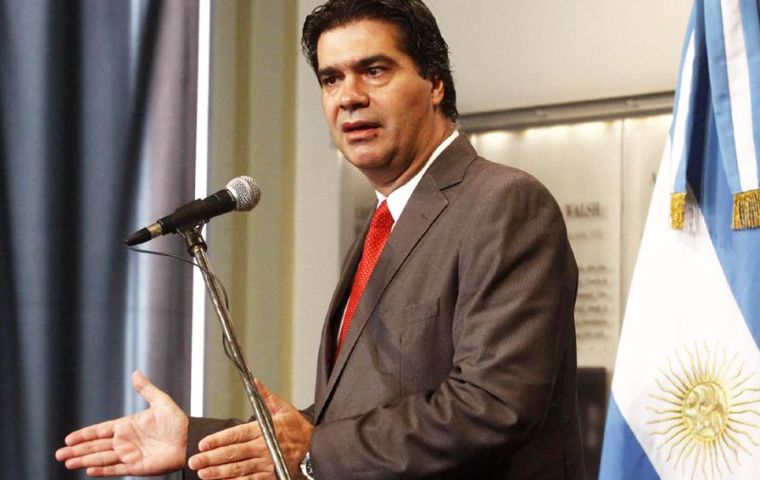 The Argentine government announced on Tuesday it has started "a thorough investigation on major foreign trade companies" which have allegedly registered accounting irregularities for 6.8 billion dollars. Cabinet Chief Jorge Capitanich said the Central Bank has reported "mining, grain, food, car and oil companies have exported but failed to account for foreign currency income."
Capitanich stressed the government is "worried" about these maneuvers and blamed "unscrupulous business leaders" for "meaningless rising prices."
Argentina is desperately short of hard currency and losing international reserves at a daily average of 150 million dollars, and officials from the government of President Cristina Fernandez are looking for escape goats to blame the current situations which has been fuelled by erred policies: a huge budget deficit, ridiculous low public utility rates, contained prices and inflation which devours salaries purchasing power.
"We need to fight speculation of those industry leaders, suppliers, and businesses," Capitanich said, reiterating they are committing an "abuse." "It is good Argentines know the truth about price formation" and "we ask people to share with us the effort to avoid abuse," he added.
The cabinet chief added that during a meeting held on Monday between government officials and exporters they agreed on a "planning mechanism for stock liquidation" calculated in more than 27 billion dollars.
The Cabinet Chief has also questioned the hike on gasoline prices announced last weekend by Shell oil company considering the decision a "unilateral attitude", and regretting that sometimes the Government is fighting economic groups alone.
The company announced a 12% hike in gasoline prices to be in effect as of Monday.
In his daily press conference at the Government House, Capitanich accused Shell of lacking "technical reasons to fix these prices" while it only responds to "greed."
"Shell's attitude is not a coincidence; it's an attitude which goes against the country's interests. Shell's attitude is always conspirational," he fired.
He went on to say the government "was implementing a strategy of dialogue with all sides involved to generate conditions of supply and prices" until Shell decided the price hike".