US Senate passes 1 trillion dollars farm bill with crop insurance program, cuts in subsidies and food stamps
Wednesday, February 5th 2014 - 08:38 UTC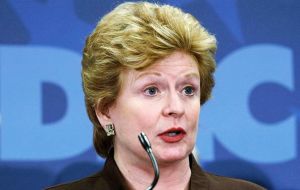 The United States Senate on Tuesday passed the long-awaited almost 1 trillion dollars farm bill, ending two years of partisan clashes and stalled negotiations. The bill was approved with strong bipartisan support, 68 to 32.
"Many people said this would never happen in this environment, but Congress has come together to pass a major bipartisan jobs bill," said Senator Debbie Stabenow, Democrat of Michigan and chairwoman of the Senate Agriculture Committee. "This effort proves that by working across party lines, we can save taxpayer money and create smart policies that lay the foundation for a stronger economy."
The nearly 1,000-page bill reauthorizes hundreds of programs for agriculture, dairy production, conservation, nutrition and international food aid.
The Congressional Budget Office estimates that the bill will cost 956 billion dollars and reduce spending on farm subsidies and nutrition by 16.6 billion over the next 10 years. But lawmakers said the savings would be much higher, around 23 billion, when sequestration cuts to agriculture programs were factored in.
Among the biggest changes in the bill are cuts to the Supplemental Nutrition Assistance Program, commonly known as food stamps, the expansion of the crop insurance program and the elimination of direct payments to farmers. Direct payments have cost about 5 billion a year, and have been paid to farmers regardless of whether they grew crops.
Spending on the food stamp program will be reduced by about 8 billion over the next decade, and will account for about 1% of the total spending in the bill. The reduction in spending will affect about 1.7 million people, who will have their benefits reduced by about 90 dollars a month, according to the budget office. The bill's proponents said the measure closed a loophole exploited by 16 states that helped food stamp recipients get more in benefits than they should have.
But anti-hunger advocates said the cuts would increase the number of people in need of food, even though the bill adds about 205 million dollars to food banks.
The bill adds 7 billion to the crop insurance program, a government-backed insurance subsidy that dates to the Dust Bowl. Taxpayers pay about 62% of the premiums. Some of the savings from the elimination of direct payments will be added to the crop insurance program. Proponents of the program said it provides a better safety net for farmers and ensures that they get help only in cases when they need it, such as a natural disaster.
But critics of the crop insurance program, such as Vincent H. Smith, a professor of agriculture at Montana State University, and conservative groups like the Heritage Foundation, said the program had morphed from a safeguard against natural disasters into income support for farmers.
The bill also makes changes to the international food aid program and contains several conservation measures supported by environmental and hunting groups. And it adds money to combat fraud in the food stamp and crop insurance programs.
"Given all the complexity and competing interests, I think they did an adequate job," said Dan Glickman, a former agriculture secretary and member of Congress