WHO: Cancer growing at 'an alarming pace', particularly in developing countries
Wednesday, February 5th 2014 - 08:47 UTC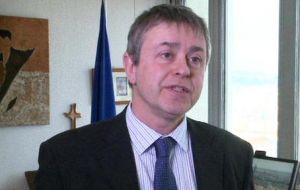 The WHO's International Agency for Research on Cancer (IARC) said cancer was growing "at an alarming pace" worldwide and new strategies were needed to curb the sometimes fatal and often costly disease.
The agency said cases would rise from 14 million in 2012 to 25 million a year in 2032. Over the same period, cancer deaths are predicted to rise from an estimated 8.2 million a year to 13 million per year. The IARC, speaking at the launch of its World Cancer Report 2014, said that governments must look toward prevention, making better use of vaccines and public health policies, turning the focus away from treatments which cannot alone stem the disease.
"It's untenable to think we can treat our way out of the cancer problem. That alone will not be a sufficient response," Christopher Wild, the IARC's director, told reporters in London.
"More commitment to prevention and early detection is desperately needed... to complement improved treatments and address the alarming rise in the cancer burden globally."
The World Cancer Report, which is only produced roughly once every five years, involved the collaboration of around 250 scientists from more than 40 countries. On the plus side, it said access to effective and relatively inexpensive cancer drugs would significantly cut death rates, even in places where healthcare services are less well developed.
But, the report added, the spiraling costs of cancer are hurting the economies of even the richest countries and are often way beyond the reach of poorer nations. In 2010, the total annual economic cost of cancer was estimated at around 1.16 trillion dollars. Yet around half of all cancers could be avoided if current knowledge about cancer prevention was properly implemented, Wild said.
The data produced by the report means that at current rates, one in five men and one in six women worldwide will develop cancer before they reach 75 years old, while one in eight men and one in 12 women will die from the disease.
As populations across the world are both growing and ageing, IARC said developing countries were disproportionately affected by the increasing numbers of cancers. More than 60% of the world's total cases occur in Africa, Asia, and Central and South America, and these regions account for about 70% of the world's cancer deaths, it said.