An only rare atypical case of L-type mad cow located and destroyed in Germany
Thursday, February 6th 2014 - 04:48 UTC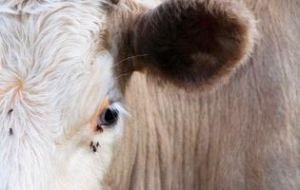 German health authorities have picked up a rare atypical case of BSE in an aged cow, as part of routine screening work. A single animal from a group of 80 was found to have atypical BSE (L-type) after laboratory testing. Seven cohorts were destroyed as part of the examination, all found to be negative for BSE, following an epidemiological investigation.
The discovery was made in a single ten-year-old cow at slaughter, as part of Germany's targeted bovine spongiform encephalopathy (BSE) surveillance system. The cow had no clinical signs of disease, authorities said.
Results from tests at Germany's National Reference Laboratory (Friedrich-Loeffler Institute) confirmed that the animal positive for atypical BSE, a very rare form of the disease not generally associated with an animal consuming infected feed.
The animal's carcass was destroyed, and none of its meat entered the food supply chain. At no time did it present any risk to human health, the German incident report said.
The epidemiological investigation identified seven cohort cattle, five of which were already slaughtered and two of which were still on the farm of origin. Both have been tested and destroyed.
Authorities were able to trace cattle born on the farm of origin from one year before until one year after the birth of the identified cow. Another five animals have subsequently been killed and destroyed.
Germany is unlikely to see its OIE BSE status altered as a result of the event, because the OIE does not recognize an atypical form of BSE as a distinct entity for the purpose of its international standards. Atypical BSE is sometimes associated with spontaneous mutation of prions, presenting as BSE in an animal without any source of infection, such as contaminated feed.
The announcement was not expected to impact on consumption patterns for beef in Germany or across the broader EU region, but was proof-positive that disease screening programs were working effectively, government sources said.
Localized cattle movement control measures have been applied inside the country, in response to the detection. Germany last reported a case of atypical BSE in 2009.