Francis denies any involvement in Argentina's complicated situation: 'pure nonsense'
Monday, February 10th 2014 - 03:33 UTC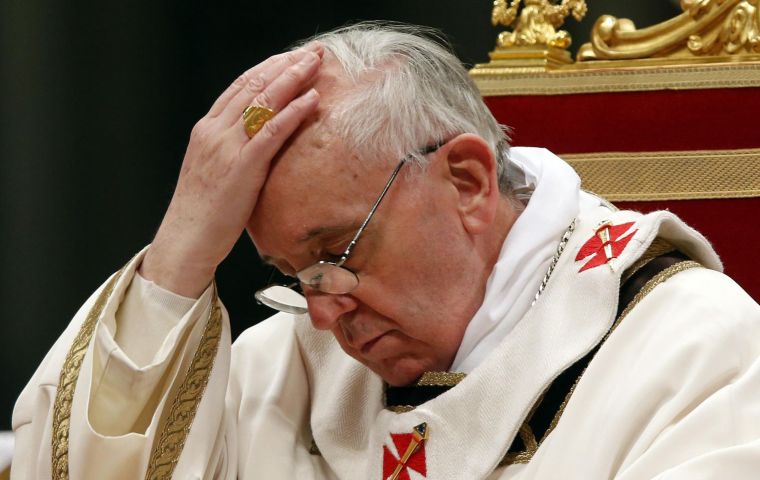 Pope Francis dismissed on Sunday reports that he had called for a meeting between representatives from President of Cristina Fernández government and members of the Argentine Industrial Union (UIA) and organized labor CGT union, with the supposed aim of discussing economic issues.
The pontiff moved to deny speculation circulating in several Buenos Aires media outlets which informed that he had called for a round-table discussion next march in the Vatican, ahead of scheduled collective pay negotiations.
According to the reports, the pope would receive on March 19 Work Minister Carlos Tomada; UIA president Héctor Méndez and deputy Daniel Funes de Rioja, and head of the construction union Uocra Gerardo Martínez.
But Francis, formerly Cardinal Jorge Bergoglio, put an end to speculation during a telephone conversation with a Cronica journalist, whom he told that the rumors were "nonsense".
According to the reports the Pope is very much concerned about the political and economic situation of Argentina and its democratic institutions and was prepared to host a meeting to help iron out positions.
The burst of January inflation has unions asking for a 30% floor increase, while the prices situation remains chaotic as shopkeepers and suppliers keep increasing them despite a significant drop in domestic activity.
This however has not prevented a significant inflow of foreign tourists taking advantage of the parallel price of the US dollar to go bargain-shopping.