UK immigration minister resigns over major gaffe: employment of foreign cleaner
Tuesday, February 11th 2014 - 08:33 UTC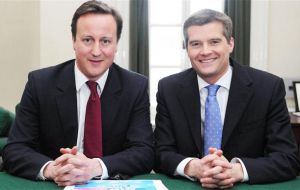 Britain's immigration minister has resigned over the illegal employment of a foreign cleaner, a major gaffe given the UK government's clampdown on immigration of all kinds.
British Prime Minister David Cameron's Downing Street office said in a statement that there was no indication that the minister, Mark Harper, knew the cleaner was working illegally but said the leader accepted the resignation "with regret."
It also distributed Harper's resignation letter, in which he explained that he thought he had verified in 2007 that the unnamed cleaner's passport and documentation meant she could work in the UK legally.
But he said officials warned him on Thursday that she was in fact in the country illegally, forcing his hand.
"Although I complied with the law at all times, I consider that as immigration minister, who is taking legislation through Parliament which will toughen up our immigration laws, I should hold myself to a higher standard than expected of others," he said in the letter.
The case has an echo of the US "Nannygate" scandal, in which then-President Bill Clinton's top pick for attorney general was forced to withdraw her nomination in 1993 after it was revealed her family employed an illegal immigrant as her maid.
But Harper's resignation is even more embarrassing because he was specifically tasked with policing Britain's shores, a hot-button issue in an island nation where many are weary of immigration.
Harper took a particularly aggressive approach to the job. His department oversaw the deployment of a van that patrolled London's streets warning migrants who had overstayed their visas to "go home or face arrest." The van, emblazoned with large handcuffs, was withdrawn following an outcry.
Harper also raised eyebrows after telling a repeat asylum seeker from Iraq that his multiple attempts to seek refuge in the UK were "ridiculous" and he should leave the country.
In his reply, Cameron said Harper had "taken an honorable decision" and he hoped to see him return to the frontbench "before too long."
"I understand your view that, although you carried out checks on your cleaner, you feel that you should hold yourself to an especially high standard as immigration minister," Cameron wrote.
The Home Affairs Committee chairman, Labor MP Keith Vaz, said Mr Harper left an "impressive legacy."
"The immigration portfolio is one of the toughest in government but he carried out his role with effectiveness and good humor," he added.