Pacific Alliance signs accord to scrap 92% of inter-trade tariffs and bolster ties with Asia
Wednesday, February 12th 2014 - 09:09 UTC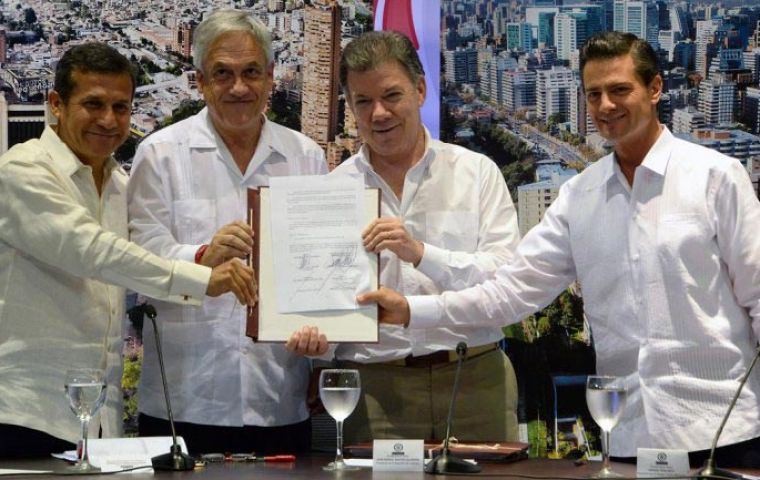 Heads of state from the Pacific Alliance, comprised of Chile, Colombia, Mexico, and Peru, signed a deal on Monday that will scrap 92% of tariffs on goods and services traded between them. Created in 2012 the Alliance aims to integrate free markets in trade, energy, finance and infrastructure, and bolster ties with Asia, a key trading partner.
The trade protocol, broadly agreed to in principle at a previous meeting last year, will eliminate 92% of the tariffs between the member countries once their respective parliaments ratify the deal, and will phase out the remainder gradually.
The agreement is expected to becomes operational in 2015 according to the presidents Juan Manuel Santos from Colombia, and host of the meeting; Ollanta Humala from Peru; Sebastián Piñera, Chile and Mexico's Enrique Peña Nieto.
"This translates into more investment, more competitiveness and as a consequence, more employment, and good quality employment. This is the fundamental purpose of this whole exercise," said Colombian President Santos.
The deal, signed in the colonial Colombian city of Cartagena de Indias will also create a fund to finance infrastructure investments within the four member countries and establish a joint system to monitor and control the price of medicines.
The four nations' total gross domestic product accounts for more than a third of Latin America's overall economic output and over 50% of foreign trade. Costa Rica, Panama and Guatemala have also expressed interest in becoming members, and Costa Rican president, Laura Chinchilla attending the summit signed the protocol of incorporation, which should be completed sometime late 2014.
The bloc is expected to seek more clout in Latin America by promoting free trade, foreign investment and focusing on fast-growing Asian economies as an alternative to the protectionist policies championed by Mercosur members such as Argentina and Venezuela, and even Brazil.
"In this large market that our countries of more than 210 million consumers comprise, we will truly be able to establish integration... and contribute to greater Latin-American integration," said Mexican President Peña Nieto.
But Peruvian president Ollanta Humala was more cautious, "we still have the most difficult part ahead, implementing and making institutional the agreement".
In effect although 92% of tariffs on goods and services will be eliminated, the remaining 8% refers to agriculture produce considered highly 'sensitive', such as bananas, coffee and beans, and the four countries agreed a time table of 17 years to finally scrap all tariffs.
Santos who holds the Alliance rotating chair until May, when it will be handed to Mexico made it a point to underline the role played by Chilean president Piñera who is stepping down next March, when president-elect Michelle Bachelet takes office.
"He has been an engine for this endeavor with all his dynamism and enthusiasm", said Santos and Humala added that Piñera's interventions helped give the Alliance a sense of 'quality'.
"The Pacific Alliance has become the pretty girl of the region", said Santos who added that the group feels like belonging to the 'Dream Team'.