At least four people killed as thousands march in Caracas for and against Maduro
Thursday, February 13th 2014 - 04:01 UTC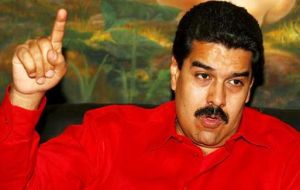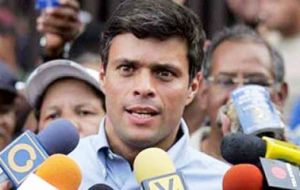 At least four people have been killed, including a police officer, after thousands of Venezuelans in two different marches, opposing and supporting President Nicolas Maduro took to the streets of Caracas on Wednesday following two weeks of anti-government protests across the country.
Gunfire erupted in the centre of the capital when armed members of a pro-government vigilante group arrived on motorcycles and began firing at more than 100 anti-Maduro student protesters clashing with security forces according to local news reports.
As the crowd fled in panic, one demonstrator fell to the ground with a bullet wound in his head. Onlookers screamed "assassins"' as they rushed the 24-year-old student, later identified by family members as Bazil D'Acosta, to a police vehicle.
Also killed was the leader of a pro-government 23rd of January collective, as supporters of Venezuela's government call themselves.
National Assembly President Diosdado Cabello said the "revolutionary'" known by his nickname Juancho was ``vilely assassinated by the fascists" but provided no further details.
Luisa Ortega, the country's attorney general, said a police officer had died during the violence and that 25 people had been reported injured.
The mayor of the Chacao's District in eastern Caracas said a fourth person had also been confirmed dead.
The Minister of Interior reported several police cars had been torched and the Attorney General said that her offices were gunned and attacked with bombs.
However it all started peacefully with a non violence spirit: student leaders tried to contain the extremist groups that finally hooded and with sticks and rocks confronted the riot police. And on the police side, officers met with students leaders to try and set rules for the march to avoid violence but it was all in vain.
Wednesday's protest, organized by students and hard-line opposition members, was the biggest faced by Maduro since he was elected nearly a year ago following the death of his mentor, Hugo Chavez.
Pro-government supporters countered with a march of their own to express support for Maduro, who has accused opponents of trying to violently oust him from power just two months after his party's candidates prevailed by a landslide in mayoral elections.
While anti-government demonstrators vented frustration over issues ranging from rampant crime to mounting economic hardships, they were united in their resolve to force Maduro out of office by constitutional means.
"All of these problems - shortages, inflation, insecurity, the lack of opportunities - have a single culprit: the government," Leopoldo Lopez, a Harvard University-trained former mayor, told a crowd of about 10,000 people gathered at Plaza Venezuela in Caracas.
Lopez, who leads a faction of the opposition that is challenging the leadership of two-time presidential candidate Henrique Capriles, called the protests "a moral and patriotic duty", adding that "if we don't do it now, then when? And if it's not us, who will?"
Across town, Maduro told his supporters that he would not back down in the face of what he said was a conspiracy by opponents to provoke violence and destabilize his government.
"A Nazi-fascist faction has emerged that wants to take Venezuela down the path of violence," the former bus driver said. "What we're going to have is peace and prosperity."