Mercosur summit could take place in March, say Paraguay/Venezuela ministers
Friday, February 14th 2014 - 21:36 UTC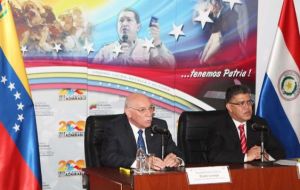 The much delayed Mercosur summit, originally scheduled for last December could take place in March, according to Paraguay's foreign minister Eladio Loizaga who this week visited his Venezuelan peer Elías Jaua. Venezuela currently holds the Mercosur rotating chair and will be hosting the event when (and if) it finally takes place.
"We addressed with my colleague an agenda of political, trade, energy and multilateral affairs", said Loizaga after meeting in Caracas with Jaua for over two hours. He added that on the sidelines of the meeting "we also talked about Mercosur and the summit, which we believe can take place next March, but no date has been agreed".
The Mercosur summit has been suspended at least three times so far: December, January (twice) and February.
"With this visit we are re-launching a battery of cooperation issues in the framework of the excellent relations between the governments of presidents Horacio Cartes and Nicolas Maduro", said Jaua, who also mentioned that the Paraguayan leader has been invited to Venezuela.
Loizaga also mentioned that the two countries had agreed to work on possible air accords, passenger and cargo, and even flights Caracas/Asunción thus increasing connectivity. This would be implemented with Venezuela's flag carrier Convisa.
"The more connectivity, the greater competitiveness and lowering of costs for our industries", said Loizaga.
Finally regarding the latest events in Venezuela, Loizaga said Paraguay respects sovereign decisions of countries, "that is the position we sustained with the situation we underwent two years ago (when the removal by impeachment of then president Fernando Lugo). We do not support violence as a political instrument or objective; we do not accept political situations that are implemented through violence".
He added Paraguay supports democratic processes and for that "it's the people who have to decide through open, clean elections, and that is the path and procedure we have agreed on in Paraguay".