Total to drill first exploratory well in Uruguay's shelf in October 2015
Friday, February 14th 2014 - 21:22 UTC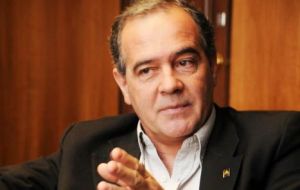 French oil giant Total will be drilling its first well in Uruguay's continental shelf in October 2015, announced the president of the country's oil and gas government owned company ANCAP. Jose Coya also revealed that the company he leads is working on the third Uruguay Round which will implement in the last quarter of next year.
"This is a milestone for the hydrocarbons exploration process in Uruguay because it means we will be approaching a point that could reveal a clearer picture of our off-shore potential", said Coya.
Under Uruguayan rules for the oil industry, to advance from the seismic surveying stage companies must comply with certain requirements such as drilling an exploratory well.
The head of Ancap pointed out that the Uruguay Round III will include a yet undetermined number of blocks for further exploration and eventually exploitation in the continental shelf, and "will most probably attract more companies and investments for Uruguay".
Coya said that in the three year period between Uruguay rounds II and III an estimated 1.5 to 2bn dollars will have been invested and that once the third round gets moving "those investments will increase".
Nevertheless Coya admitted that a company might lose interest in continuing with exploration, and leaves the area. In that case those blocks could be included in Round III, or even be incorporated to Ancap's list of areas for its own exploration.
But "Round II was, I would say very successful and allowed us to have Uruguay definitively included in the world's oil and gas map. We managed to attract first line corporations in the oil business".
"In 2012 we awarded eight blocks, in addition to the two blocks of the first Uruguay round, and thus completed 60.000 square meters, which is approximately 60% of what we have to offer interested corporations", said Coya.