Spain's Repsol signs 1.2bn dollars financing deal with Venezuela's PDVSA
Saturday, February 15th 2014 - 05:50 UTC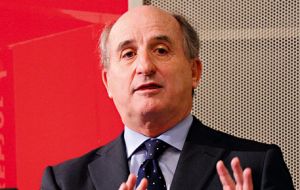 Repsol signed a financing deal Friday with Venezuelan state oil company PDVSA that calls for the Spanish energy major to invest 1.2 billion dollars to boost the output of the companies' Petroquiriquire joint venture.
PDVSA boss Rafael Ramirez, who is also Venezuela's vice president, and Repsol CEO Antonio Brufau signed the loan accord for the joint venture, in which the Venezuelan firm has the majority stake.
The financing accord was inked at a rate of Libor plus 4.5%, which Ramirez described as "very good," and it is aimed at boosting output from a current level of 50,000 bpd to 60,000 bpd in five years at Petroquiriquire's three mature fields in eastern and western Venezuela.
Ramirez said the agreement was part of PDVSA's larger effort to raise production and thanked Brufau for his personal involvement in relations between Repsol and Venezuela. Brufau, for his part, stressed Repsol's long-standing ties with Venezuela, a country where it has operated since 1993.
"Venezuela represents 10% of Repsol's total output, and if we look to the future it's the area or country where, percentage-wise, Repsol plans" to put the biggest chunk of its capital, the Spanish executive said.
"The project we're signing today is a ... project in which the Repsol group plans to invest 1.2 billion over the next five years to increase production and consolidate that production, and we're very excited about it," he added.
This latest financing deal brings to 9.97 billion the amount Venezuela has raised since last year from foreign companies, among them Chevron Corp., China's CNPC and Italy's ENI, to lift output, Ramirez said.