Chile's incoming coalition with divided support over events in Venezuela
Tuesday, February 18th 2014 - 05:25 UTC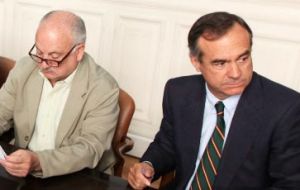 The Chilean coalition of Chilean president elect Michelle Bachelet is divided on how to address events in Venezuela, according to the latest statements. While the Christian Democrats support the 'democratic forces' in Venezuela in reference to the marches against President Nicolas Maduro, the Communist party accused 'destabilization attempts' as the reason for the widespread violence.
"The government of Venezuela is democratic, legitimately elected and it is our duty to defend this system in any South American country faced with destabilization attacks or attempts", said the Chilean communist party chairman and lawmaker, Guillermo Teillier.
"You can have different approaches but you can't deny the Venezuelan government is democratic, democratically elected and the Bolivarian movement is essentially democratic and respectful of legal processes", insisted Teillier who then recalled that "those who say they are defending democracy in Venezuela, tried a coup against former president Hugo Chavez, and now are the main instigators of violence and destabilization incidents".
"What needs to be protected is the democratic system in Venezuela and be most respectful of governance", pointed Teillier.
However few minutes before Teillier made his comments, the chairman of the Christian Democrats, Ignacio Walker also underlined that his party was in solidarity support for "the democratic forces in Venezuela which are struggling to establish, consolidate and deepen freedom and democracy and respect for Human Rights.
"Maduro has to respect legal instruments...there is a whole battery of legal instruments which have been in the statutes of the Americas for the last three decades in the Americas and thus we regret and condemn these incidents which have been reported", said Walker.
Both the Christian Democrats and the Communist party are members of the ruling coalition that will be taking office next March with president-elect Michelle Bachelet.