Chancellor Osborne warns UK recovery 'is not yet secure' despite recent growth surge
Friday, February 21st 2014 - 07:30 UTC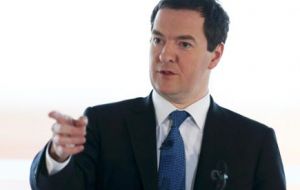 UK Chancellor George Osborne said next month's Budget will continue to confront Britain's problems as he cautioned the recovery was "not yet secure" despite a recent surge in growth.
In a speech to business leaders in Hong Kong ahead of this weekend's G20 Finance ministers meeting in Australia, Mr Osborne said it would be a "huge mistake" to consider the job done in repairing the UK's battered finances.
While he cheered a marked improvement in the economy and jobs market, he said plans must remain in place to slash the deficit and national debt. "Some in Britain might be tempted to say: job done, let's avoid more hard decisions.
"That would be a huge mistake. Abandon the plan and we abandon the progress we've made and go back to square one. I said that we have to go on dealing with our debt and our deficit - and we have no choice but to do so," he added.
His comments follow a sharp upgrade to UK growth forecasts from the Bank of England last week, which predicts growth of 3.4% this year, up from 2.8% previously.
Gross domestic product grew by 0.8% in the third quarter of 2013 and by 0.7% in the final three months of the year, although Bank experts believe fourth quarter growth will be revised up to around 0.9%.
But Bank governor Mark Carney stressed the recovery had been ''neither balanced nor sustainable'' and required continued support. Osborne echoed the Bank's comments as he said "as well as reasons to be cheerful, there are also reasons to be careful".
Exports continue to lag behind imports and much of the economic growth has so far been spurred on by consumer spending.
"The recovery is not yet secure and our economy is still too unbalanced. We cannot rely on consumers alone for our economic growth, as we did in previous decades. And we cannot put all our chips on the success of the City of London, as my predecessors did. Britain is not investing enough. Britain is not exporting enough".