Dilma invites the pope to the World Cup and presents him with a 'verde-amarella' jersey
Saturday, February 22nd 2014 - 06:06 UTC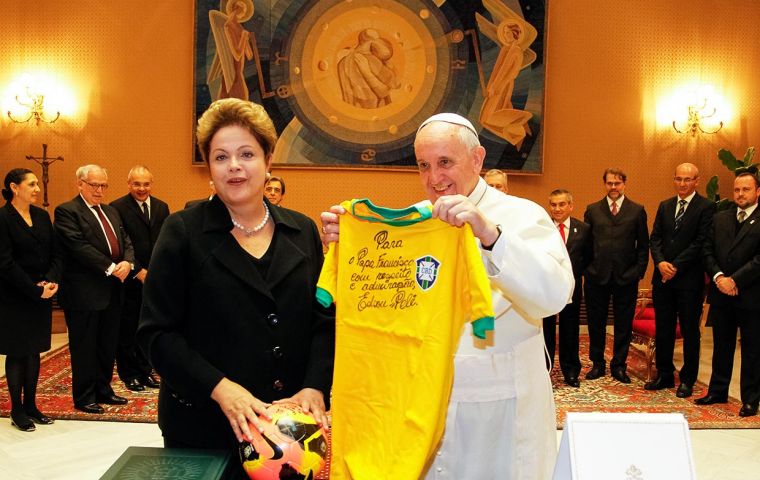 Pope Francis received Friday in a private audience Brazilian President Dilma Rousseff, who formally invited the Argentine pontiff to visit her country during the World Cup soccer championship, which begins June 12.
Rousseff gave the pope a 'verde-amarella' (green-yellow) jersey with the number 10 on the back, signed by Brazilian soccer king Pele with the dedication "To Pope Francis with respect and admiration," the Vatican said in a statement.
Jokingly the Argentine born pope told the Brazilian leader that "with all these gifts I will have to pray for Brazil to win the Cup". However Dilma replied she would be very happy if 'your sanctity simply remains neutral".
The pontiff then gave the Brazilian president an artistic medallion of the angel of peace.
"The conversation was wide-ranging and cordial, and provided an occasion for Pope Francis to express once more his feelings of affection and hope for all the Brazilian people," the Vatican said.
The Brazilian president told reporters that "it is always good talking to Francis because he is committed to the poor, and being Latin American, he has a better understanding of our countries' problems."
The first meeting of Rousseff and Jorge Mario Bergoglio was on March 19, 2013, when the Brazilian president traveled to the Vatican to attend the pope's coronation Mass.
In July 2013, Rousseff received Francis in Rio de Janeiro on the occasion of World Youth Day, which was his first international journey as pope.