OECD warns global economy is threatened by a new low-growth era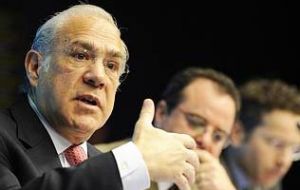 A widespread slowdown in global economic productivity is threatening to usher in a new low-growth era, the Organisation for Economic Cooperation and Development has warned.
High unemployment and declining labour force participation, and the emergence of long-term unemployment in countries such as Greece and Spain, are fuelling concerns of a "structural downshift" in global growth rates to pre-crisis levels.
The OECD on Friday published its interim "Going for Growth" annual report on the eve of the G20 Finance Ministers meeting this weekend in Australia, with Australian Treasurer Joe Hockey and OECD secretary-general Angel Gurria launching it in Sydney.
The report highlights declining productivity as a major concern this year, for both developing and developing countries.
"This report comes at a time of transition for the global economy," Mr Gurria, said in Sydney. "One major concern shared by all … [is] the risk of falling into a low-growth trap for the medium and long-term."
Since its 2005 launch, the annual "Going for Growth" report has highlighted structural reforms that help to boost economic activity and raise living standards in every OECD country.
"Australia has focused its G20 Presidency on promoting stronger economic growth and employment while making the global economy more resilient to deal with future shocks. The structural reform recommendations the OECD puts forward today offer governments practical ways to boost productivity, lift growth, create jobs and avoid the low-growth trap," Mr Gurría said.
"Progress on structural reforms can boost growth and living standards worldwide," Mr Gurria said. "Slowing productivity growth and persistently high unemployment in many advanced economies cry out for further reforms. The vulnerability of many emerging-market economies to the ongoing tightening of monetary policy and the cooling of the commodity boom serves as a reminder that the case for structural reforms is also strong there"