YPF and Repsol are expected to sign a compensation deal next week
Saturday, February 22nd 2014 - 06:21 UTC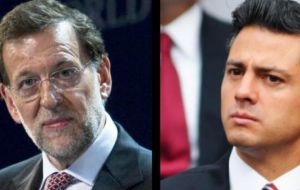 Spanish oil major Repsol said Friday that, as part of a preliminary compensation deal struck last year with the Argentine government for the seizure of its former unit, YPF, it will take a charge of 1.28 billion Euros (1.76 billion dollars) on its 2013 earnings.
The announcement opens the way for a possible compensation agreement between Repsol and YPF, according to Argentine sources which insist a deal involving five billion dollars will be signed next Tuesday.
In May 2012, Argentina's Congress passed legislation to seize a controlling stake in YPF from Repsol after President Cristina Fernandez declared the shares to be a public good and said the Madrid-based company was not investing enough in Argentina.
The expropriation sparked diplomatic tensions between Spain and Argentina, and Repsol vowed that it would seek at least 10.5 billion dollars in compensation for its former unit.
Before Friday, the expropriated stake in YPF (51%) had been on Repsol's books at 5.39 billion Euros (7.4 billion). On Friday, however, the Spanish oil major said in a regulatory filing that the seized shares were worth 5 billion.
"At year-end 2013, due to the heads of agreement announced in November in relation to the shares of YPF S.A. and YPF Gas S.A. subject to the expropriation process, their value has been adjusted to 5 billion. Therefore, an impairment of 1.28 billion Euros after tax will be recorded in the full-year 2013 results," Repsol said.
The 5 billion figure matches the amount of compensation the Argentine government has agreed to pay Repsol in the form of dollar-denominated bonds.
In Argentina's government house there was optimism that finally this coming week the Repsol/YPF litigation would be over, thanks among other things to the good offices from Spanish president Mariano Rajoy and Mexico's Enrique Peña Nieto.
Mexico's Pemex has a stake in Repsol and is also interested in participating in the development of the extensive oil and gas shale deposits in Argentine Patagonia, which has attracted several significant names from the international oil industry, despite the fact Argentina still has pending litigations with hedge funds' holdouts and its international standing is not the best.
Last November Repsol's Administration Council had approved in principle the agreement proposed by the Argentine government, although there was no official mention of the sum involved in the compensation except for some rumors in Buenos Aires of 5 billion dollars in Argentine sovereign debt.
Respsol is scheduled to announce its annual balance on 28 February. The third quarter of last year profit was 384 million Euros, which represented a drop of 48.9& in the last twelve months, mainly because of the activity interruption in the Libyan oil fields and a weak European market.