World top economies pledge 2% growth in next five years and millions of jobs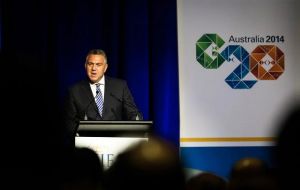 The world's top economies have embraced a goal of generating more than 2 trillion dollars in additional output over five years while creating tens of millions of new jobs, while also promising more transparency in monetary policy to allay the concerns of emerging economies.
The final communiqué from the two-day meeting of Group 20 finance ministers and central bankers in Sydney, Australia said they would take concrete action to increase investment and employment, among other reforms. The group accounts for around 85% of the global economy.
"We will develop ambitious but realistic policies with the aim to lift our collective GDP by more than 2% above the trajectory implied by current policies over the coming 5 years," the G20 statement said.
There was also a nod to concerns by emerging nations that the Federal Reserve consider the impact of its policy tapering, which has led to bouts of capital flight from some of the more vulnerable markets.
"All our central banks maintain their commitment that monetary policy settings will continue to be carefully calibrated and clearly communicated, in the context of ongoing exchange of information and being mindful of impacts on the global economy," the communiqué read.
There was never much expectation the Fed would consider actually slowing the pace of tapering, but its emerging peers had at least hoped for more cooperation on policy.
Australian Treasurer Joe Hockey said there had been honest discussions among members on the impact of tapering and that newly installed Fed Chair Janet Yellen was "hugely impressive" when dealing with them.