Mexican billionaire Slim and Protto group, to become main shareholders of New York Times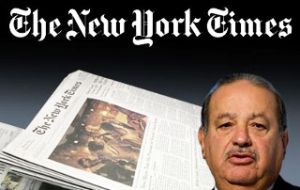 Mexican magnate Carlos Slim and the Italian group Proto will be the principal shareholders of the US daily The New York Times (NYT), said sources at the Proto Organization. This is because Slim plans to exercise at the end of this year warrants he received when he made a major loan to the newspaper company, according to a report in Bloomberg.
"This agreement for joint participation in 19% of NYT capital was taken in New York by Carlos Slim and Alessandro Proto (president of the group), and will be finalized next week," the sources said.
The sources declined to reveal the value of the operation, but said that together they will possess 19% of the capital, with Slim holding 17% and Proto 2%. Slim currently holds 8%.
They said that with this operation the two become the newspaper's principal shareholders, while noting that the editorial line will remain in the hands of the original shareholders, the Ochs-Sulzberger family.
In a communiqué, Proto said that the sale of The Washington Post to Amazon founder Jeff Bezos confirms the idea that traditional groups cannot continue to operate major media on their own, but need solid support to withstand the transition.
For that reason, Proto Organization and its president, Alessandro Proto, friend of Carlos Slim, decided to back the purchase of the principal share of The New York Times, the note said.
Proto is a shareholder of Prisa in Spain, of the British Sky Broadcasting Group (BSkyB) in Britain and the Rizzoli-Corriere della Sera Group in Italy.
Slim loaned the NYT 250 million dollars during the 2009 economic crisis, after the paper met with financial difficulties due to the decline in ad revenues. As collateral of the operation he received warrants he plans to make effective at the end of the year.