US orders three Venezuelan diplomats out of the country in reprisal for similar measure from Maduro
Tuesday, February 25th 2014 - 20:35 UTC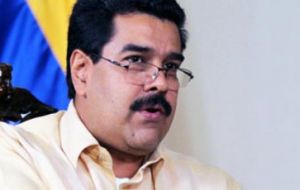 The United States ordered three Venezuelan diplomats to leave in reprisal for President Nicolas Maduro's expulsion of three US embassy staff accused of fomenting unrest that has killed at least 13 people.
The US State Department said in a statement released on Tuesday that two first secretaries and a second secretary at the Venezuelan embassy in Washington had been declared personae 'non gratae' in response to Caracas' Feb. 17 move against the three Americans.
"They have been allowed 48 hours to leave the United States," it said.
Venezuela and the United States have been without ambassadors since 2008, and Maduro expelled the three last week on accusations of recruiting students to protest against him. Washington has rejected the claims as baseless.
Despite the latest bilateral spat, however, Maduro plans to nominate a new ambassador to Washington on Tuesday to try to kick-start relations and combat what he sees as propaganda against him.
"US society needs to know the truth about Venezuela," Maduro said in the latest of his daily speeches to the nation at a meeting with state governors late yesterday.
"They (Americans) think we're killing each other. They think we can't go out to the corner. They're asking for US military intervention in Venezuela. What madness! Should that happen, you and I will be out with a gun defending our territory."
The crisis, in which at least 14 people have been killed, more than 500 have been arrested and about 150 injured over two weeks, has brought criticisms from the U.S. government and attracted wider attention.
Maduro, 51, and former union activist, who narrowly won a presidential election to replace Chavez last year, says international media are in league with "imperialists" abroad to project an image of chaos and repression in Venezuela.