Falklands/Malvinas: Argentina has "no conflict hypothesis" says Defense head
Wednesday, February 26th 2014 - 23:04 UTC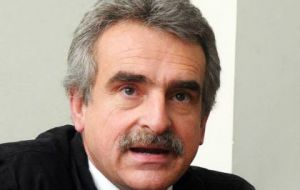 Minister of Defense Agustín Rossi said Argentina has no "conflict hypothesis" regarding the Falklands/Malvinas Islands, strongly denying statements from a British newspaper which argued the UK was closely monitoring Argentina's investment in military procurement.
"Argentina is a country which does not work with a conflict hypothesis. We are not thinking in that when we are developing the capabilities of our armed forces", said Rossi, who added
"Argentina's policy regarding the South Atlantic is very clear and it is based on international support: we are asking for dialogue".
London's Sunday Express pointed out that Argentina's increase in military procurement, (allegedly equivalent to 4.5 billion dollars) was of concern for Britain, and thus the UK was "closely monitoring" the situation in the Falkland Islands considering the event of "a military raid" by Argentina in Port Stanley.
According to the article, Argentina was planning to increase military spending this year by 33.4%, which is the highest in recent history.
"The extra cash means Argentina will ¬increase defense spending by 33.4% this year, the biggest rise in its history. It will include £750million for 32 ¬procurement and modernization programs.
"They will include medium tanks and transport aircraft and the refurbishment of warships and submarines. The shopping list also includes Israeli air ¬defense systems, naval assault craft, rocket systems, helicopters and a drone project. There will be a range of hi-tech capabilities for the army and the formation of new commando and special -forces units".
The tabloid also recalls that in August last year it had revealed details of a contract to buy 20 French Mirage fighter jets from Spain, giving Argentina the ability to attack Stanley airfield with laser guided bombs.
When asked about the shopping list and funds involved, minister Rossi, laughed and said "Hopefully!". He added that since 2003, 'investment in defense in Argentina has dropped to between 0.8% and 1% of GDP".
The Sunday Express to make it more dramatic says the're-armament' is taking place as British companies are preparing to begin production drilling for oil and gas in Falklands waters. The tabloid added, that the real fear, according to UK military sources is a raid by Argentine special forces aimed at damaging Port Stanley's runway.
From London, ambassador to the United Kingdom, Alicia Castro also played down concerns over recent investment in the Argentine armed forces, while criticizing the UK government for its insistence in ignoring United Nations resolutions imposed over the issue of the Falklands/Malvinas Islands.
"The United Kingdom remains isolated from the opinion of the international community, breaking United Nations resolutions through a refusal to reopen talks," the diplomat said on Wednesday.
"Here in Great Britain a routine renovation of Argentine defense is presented as a threat to the Malvinas Islands, solely as an excuse to continue maintaining a gigantic base in the South Atlantic, to keep buying weapons and justifying the lack of dialogue," she underlined.
"Argentina does not represent a hostile threat to the United Kingdom or the Malvinas Islands and they know that here, the United Kingdom is sure of it."
The ambassador looked back to the invasion led by General Leopoldo Galtieri in 1982 to emphasize that such an event could not happen again: "Argentina will never return to war over the Malvinas. That was a decision taken by the military dictatorship".