Falklands, South Georgia and Antarctica in 'Sea Spirit' 2015/16 expedition cruises
Thursday, February 27th 2014 - 04:59 UTC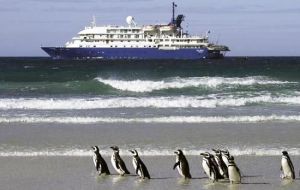 Poseidon Expeditions has chartered the 114-passenger Sea Spirit for polar operations starting in May 2015. Built as Renaissance V in 1991, the 4,200 gt ship currently operates on charter to Quark Expeditions and is managed by FleetPro Ocean. For the 2015/16 season Poseidon will offer expeditions to Antarctica, Falklands and South Georgia.
Sea Spirit will sail a range of polar cruises, beginning with a 14-day voyage from the Netherlands to Scotland, the Faroe Islands and Iceland. The ship will then offera series of itineraries to destinations such as Greenland, Iceland, Spitsbergen, Franz Josef Land and the Shetland Islands.
After repositioning to South America in October, the Sea Spirit will offer a series of expedition cruises to the Antarctic Peninsula, South Georgia and the Falkland Islands during the 2015-2016 austral summer season.
Sea Spirit's sister ship Sea Explorer will continue to operate Antarctic itineraries during the current 2013-2014 season and will offer 11 different departures in the upcoming 2014-2015 season.
In the 2015-2016 season, Poseidon will offer Antarctic cruises on both vessels, making it one of the leading providers of expedition cruises to the Antarctic.
Originally built in 1991 and operated by Renaissance Cruises, Sea Spirit and Sea Explorer have undergone technical upgrades, such as ice strengthening, to ensure they are suitable for use as expedition cruise ships in polar environments.
Both all-suite vessels feature outdoor decks, restaurants, libraries, multi-purpose presentation lounges for educational programming and entertainment. A team of experienced guides and educators lead the activities, which include Zodiac excursions, onshore hikes, optional kayak sessions and onboard presentations.