Falkland Islands considering signing the UN Convention on Biological Diversity
Friday, February 28th 2014 - 04:49 UTC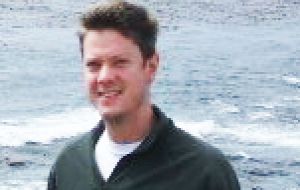 Although the Falkland Islands has not yet signed up to the UN Convention on Biological Diversity (CBD) it is being actively considered, stated Environmental Officer Nick Rendell, responding to an article that criticized the fact that only four UK Overseas Territories have joined the treaty, reports the latest edition from the Penguin News.
According to Chairman Blue Marine Foundation Charles Clover, writing for The Huffington Post, Britain has not been consistent in applying its conservation principles across all its territories.
He notes there are democratic complications in that some of the territories have their own governments, "which in turn understandably have their own views on how to run their environment."
In the article published this week he notes that only the British Virgin Islands, the Cayman Islands, Gibraltar and St Helena have completed the necessary preparations to join the UN CBD; describing it as an embarrassment.
Speaking to Penguin News, Mr Rendell said: "The potential for the Falkland Islands to join the UK ratification of the CBD is being actively considered by the Environmental Mainstreaming Group currently. A commitment to the CBD brings with it various obligations and we need to be sure we can meet the targets set rather than jumping in without due consideration to these."
He said a recommendations paper will come from the working group in the next month. The Falkland Islands Government has signed up to the four other key environmental international treaties; the Convention on International Trade in Endangered Species (CITES), the Convention on Migratory Species (CMS) (including the ACAP agreement on Albatrosses and Petrels), the Ramsar Agreement on wetlands and the UNFCC Kyoto Protocol (aimed at slowing climate change).
The Falkland Islands Government adopted the Falkland Islands Biodiversity Strategy in 2008, said Mr Rendell, "this strategy follows CBD guidance and is being implemented by Government and NGOs to prioritize and further the understanding of biodiversity in our Islands."
In the Huffington Post article Mr Glover goes on to talk of the, "practical embarrassment," presented by the challenge of preventing illegal fishing in remote
areas.
"Monitoring and enforcement only currently happens in the Falklands, South Georgia and the BIOT, leaving 3.4 million km2 of ocean effectively unpatrolled," states Mr Glover.
Giving Ascension Island as an example he says there was no requirement that fishing vessels granted licenses in Ascension Island waters had to dock in the territory before or after fishing, meaning there was also no way of monitoring what was caught.
Mr Glover said the UK Foreign Office had assured conservationists since, that Ascension Island is moving to a licensing regime based on that of the Falklands and will not award any more licenses until a new fishery system is launched this year. (PN).-