Venezuela prepares to honor Chavez on the first anniversary of his death
Tuesday, March 4th 2014 - 23:31 UTC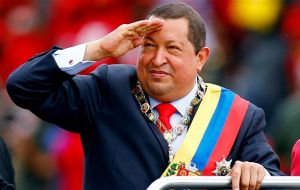 Venezuela has geared up for commemorations of populist leader Hugo Chávez's death despite continued protests against his successor that have shaken the OPEC member and threatened the legacy of "El Comandante."
Even as students maintained a few barricades in some cities and activists held new rallies, President Nicolás Maduro's government was making lavish plans to honor Chávez on Wednesday's anniversary of his death from cancer.
Maduro, who announced Chávez's death in tears to a shell-shocked nation on March 5 last year, has made preserving Chávez's controversial legacy the guiding force of his presidency despite opposition from about half of Venezuelans.
The president was to preside over a military parade in Caracas on Wednesday, followed by a ceremony at the mausoleum housing Chávez's remains on a hilltop shantytown.
Maduro, 51, narrowly won election in April 2013 to replace his mentor but has seen economic problems worsen, made little headway against violent crime, and faced street protests since early February in the nation of 29 million people.
Those demonstrations have brought Venezuela's worst unrest in a decade, with 18 people killed as demonstrators have faced off with security forces and Maduro supporters and armed gangs.
However despite the protests the Maduro regime remains strong, both in the street counter demonstrations; the military appears to remain loyal and opposition leaders are not winning over 'Chavistas' in poor areas.
The current crisis has, though, exposed genuine discontent among Venezuelans on all sides, with the highest inflation in the Americas, shortages of products from toilet paper to milk, and violent crime rates among the worst in the world.
Meanwhile, students continued to block some streets in Caracas and other cities, most notably San Cristobal in western Tachira state, in what has become their modus operandi for permanent demonstration, despite annoying many residents.
Many Venezuelans were on the road returning from beaches after a long weekend for Carnival that took some of the heat out of the protests and clashes of recent weeks.
Foreign Minister Elias Jaua, who met with UN Secretary-General Ban Ki-moon in Geneva on Monday, said Venezuela was the victim of an international campaign to ignore social gains under Chávez and Maduro and paint the government as a dictatorship.
"It's a well-designed campaign," he told reporters in Geneva. "They're using, as spokespeople, world-famous artists who barely know where Venezuela is, let alone the reality of our country, and our democratic political process."
Chávez enjoyed high popularity throughout his 14-year rule, winning a dozen national elections thanks to his charisma, humble roots that appealed to the poor, and liberal use of the huge oil revenues to finance slum welfare programs.
"Maduro tries to sell himself as the heir to Chávez, but he is just a bad copy," opposition leader Henrique Capriles said in an interview. "What we see now are the desperate kicks of the drowning man, who's trying to appeal constantly to sentiment over Chávez to justify the failure of his own government".