YPF oil and gas production up in January but still not enough
Tuesday, March 4th 2014 - 23:35 UTC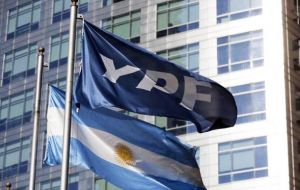 Argentina's YPF increased oil and gas production by around 9% in January, continuing a trend that began in mid-last year in which the state-controlled firm reversed long-standing production declines. And while the rest of the sector continued to lag behind, oil production at least did experience a monthly increase, suggesting that YPF's increases in output are starting to have a positive effect on the sector as a whole.
YPF's natural gas output rose 9.2% in January, compared to the same month last year, to 948 million cubic meters. In crude oil, YPF saw an increase of 9.3% 1.033 million cubic meters, according to data from the Energy Secretariat.
"YPF's monthly production has been increasing in an uninterrupted fashion since April 2013, and in gas since May of that same year," the company said on Monday, crediting "a strong level of investment that reached 6 billion dollars."
A steady decline in production — as well as rising imports — was one of the key reasons used by Argentine President Cristina Fernández to seize a majority stake in YPF from Spanish company Repsol in 2012.
Yet so far those increases experienced by YPF have not managed to help create big increases in the sector as a whole, illustrating how while the state-controlled energy firm is an important piece of the puzzle in Argentina's energy sector, it is hardly the only piece that matters.
Last year, YPF produced 41% of Argentina's oil and 33% of its gas — numbers that will increase this year following the purchase of US company Apache's assets in Argentina, as well as the Petrobras stake in Puesto Hernandez — a key area located in Mendoza and Neuquén.
In January, however, YPF's increasing production did manage to at least nudge oil production up slightly. Across Argentina, oil output increased 0.96% while natural gas declined 0.4%. In 2013, YPF "reversed a trend of more than nine years in year-on-year drops in gas and 10 years in oil."
Although it is premature to consider a trend out of one month's figures, the January data could suggest the decreases in natural gas are growing smaller. At the very least, it marks a slower decline than what was seen in 2013, when Argentine natural gas production plunged 4.4% from 2012.
Last year, YPF's natural gas production was 28.9 million cubic meters per day, slightly above the 28.2 million seen in 2012.
The decrease was also evident in oil production last year. YPF's oil production rose to 31,892 cubic meters per day in 2013, up from the 30,864 cubic meters per day seen a year earlier. Yet that was not enough to have an effect on the sector as a whole, which saw oil production decline 1.7% to 85,829 cubic meters per day, according to Energy Secretariat data.