Maduro cuts diplomatic relations with Panama for sponsoring an OAS meeting on Venezuela
Thursday, March 6th 2014 - 05:10 UTC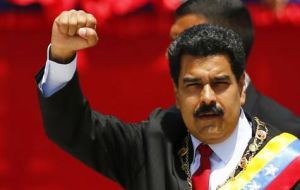 Venezuelan President Nicolas Maduro said on Wednesday his government was breaking diplomatic relations with Panama after the country called a special meeting of the Organization of American States, OAS, to address the current state of protests in Caracas.
Writing on Twitter, Panama President Ricardo Martinelli said that the move was "surprising," adding: "Panama only longs for our sister country to find peace and strengthen its democracy,"
Earlier, during a ceremony marking the anniversary of Hugo Chavez's death, Maduro said he had also decided to freeze all trade and economic ties with the Central American nation.
Maduro directed his anger against Panama after it requested a meeting of the Washington-based OAS, Permanent Council to be held on Thursday to seek solutions to resolve tensions in Venezuela.
Panama is proposing consultations between foreign ministers to examine the situation in Venezuela.
"In the face of the open conspiracy of the Panamanian government's ambassador to the OAS, I have decided to break political and diplomatic relations with Panama," Maduro said at a former military barracks where Chavez is entombed.
"Nobody will conspire with impunity to ask for an intervention against our fatherland. Enough!" Maduro thundered as presidents Raul Castro of Cuba, Daniel Ortega of Nicaragua, Evo Morales of Bolivia and Argentina's Vice-president Amado Boudou looked on.
At least 18 people have died in anti-government protests since they first erupted on February 4.
Maduro says the protests are a US-backed plot by "fascists" to overthrow his government.