Thousands of followers of the late Chavez flooded the streets of Venezuela
Thursday, March 6th 2014 - 05:26 UTC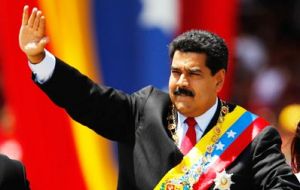 Followers of Venezuela's late populist leader Hugo Chavez flooded the streets on Wednesday to mark the anniversary of his death, a sad but welcome distraction for his successor who has faced a month of violent protests.
A year after Chavez succumbed to cancer, his self-proclaimed 'son,' President Nicolas Maduro, faces the biggest challenge to his rule from a month-long explosion of anti-government demonstrations that have led to 18 deaths, hundreds injured and arrested.
The military parade and other events to honor 'El Comandante' were a chance for Maduro, 51, to reclaim the streets and show opponents that he too can mobilize his supporters.
Tens of thousands of red-clad 'Chavistas' gathered for rallies in Caracas and elsewhere in honor of Chavez whose 14-year rule won him the adoration of many of Venezuela's poorest, while alienating the middle and upper classes.
Students, though, set up barricades in various streets of Caracas, and other cities nationwide, from before dawn. One 26-year-old man died in western Tachira state when he crashed his car swerving to avoid a roadblock set up by protesters.
Maduro was presiding over a parade in the capital before going to the hilltop military museum where Chavez led a 1992 coup attempt that launched his political career, and where his remains have been laid to rest in a marble sarcophagus.
"Chavez passed into history as the man who revived Bolivar," said Maduro, who often hails Chavez as South America's second "liberator" after independence hero Simon Bolivar.
During the lavish ceremony in Caracas, Maduro welcomed foreign leaders and representatives including Cuba's President Raul Castro.
A long six-day national holiday for Carnival and now the anniversary of Chavez's death have taken some wind out of the protests, but a hard core of students and radical opposition leaders are still on the streets, and there are clashes daily.
Some opposition leaders called for a day without protests to show respect for Chavez's memory. But students said they would not stop, and firebrand legislator Maria Corina Machado announced a march in the western city of San Cristobal where protests began and which has seen the worst of the unrest.